9 Swedish participants  joined the study tour to Kenya in January 2018.
First day was a guided tour of  the UN.
In Dandora (a slum area in Nairobi) we visited families, organisations, Rosbella school and the huge dumpsite.
We also supported the yearly Christmas Party at the YMCA in Nairobi where 300 children and adults from Dandora were invited – 400 joined.
Meeting at UNEA-3 (United Nations Environment Assembly)
Nairobi 29 November – 5 December
The theme for UNEA-3 (United Nations Environment Assembly) was: Get rid of garbage on land and at sea. Jackson from Dandora spoke of the problems at the huge dumpsite. Kajsa invited representatives from Major Groups to the Mother Tree. – What is important for you when we develope the area?
All what will be created shall be of recycled material.
Community Garden – Feature traditional medicines and indigenous practices.
Miniature Library, mounted on nearby tree.
Combined quilt of waterproof, nation-representative items, used as an awning and ground covering.
Metallic drums, used as seats and tables.
Space for visual art/music.
Reinstall the 7 Stones Fireplace above the former site.
A Treehouse.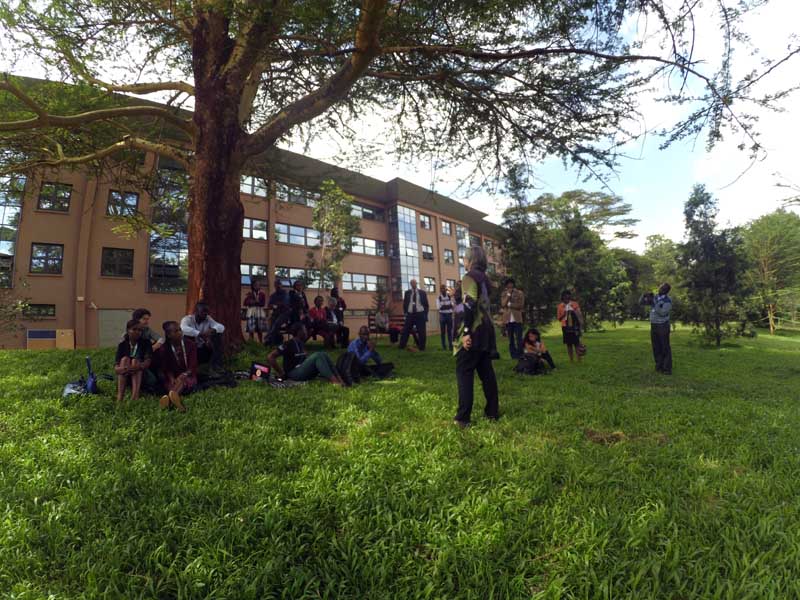 My Life tour ends with
Arvidsjaur Luleå Travelling home
23-27 October
Great to create art from all kind of material and colors – we will miss Arvidsjaur!
In Luleå a box of brand new footballs, shoes and shirts for the girls football team in Dandora! Wow! And the last performance – Dag and Gösta – great we meet again next year! Farewell at Arlanda – happiness and tears…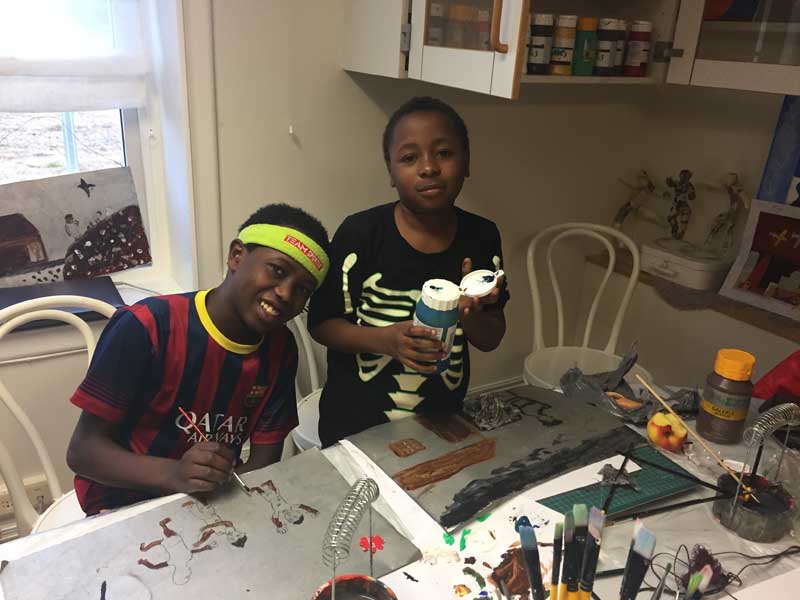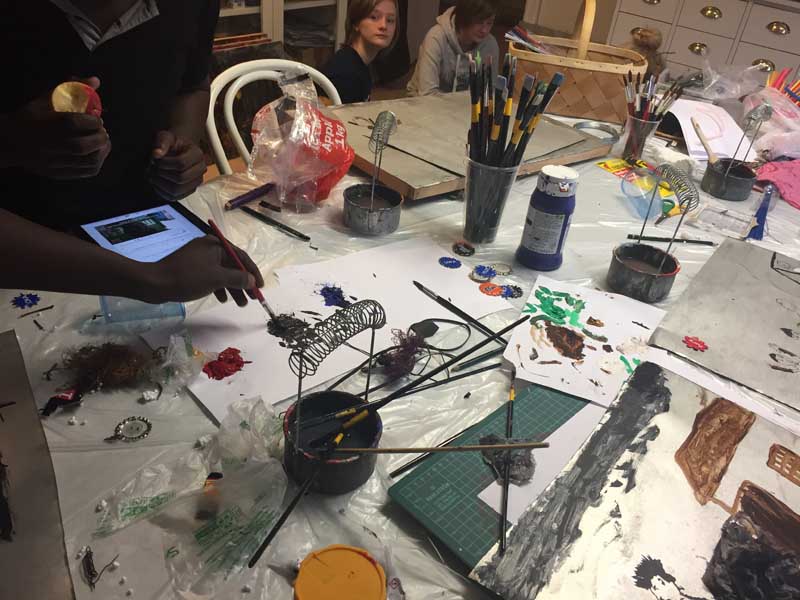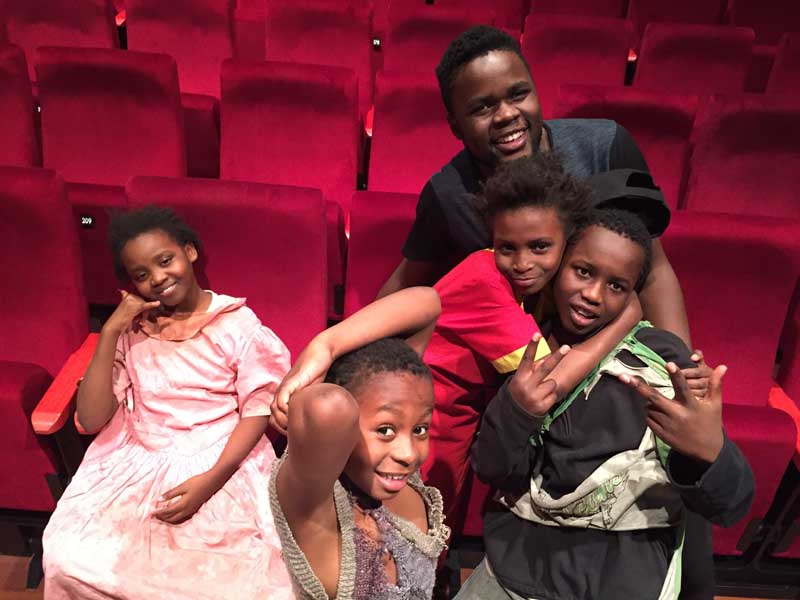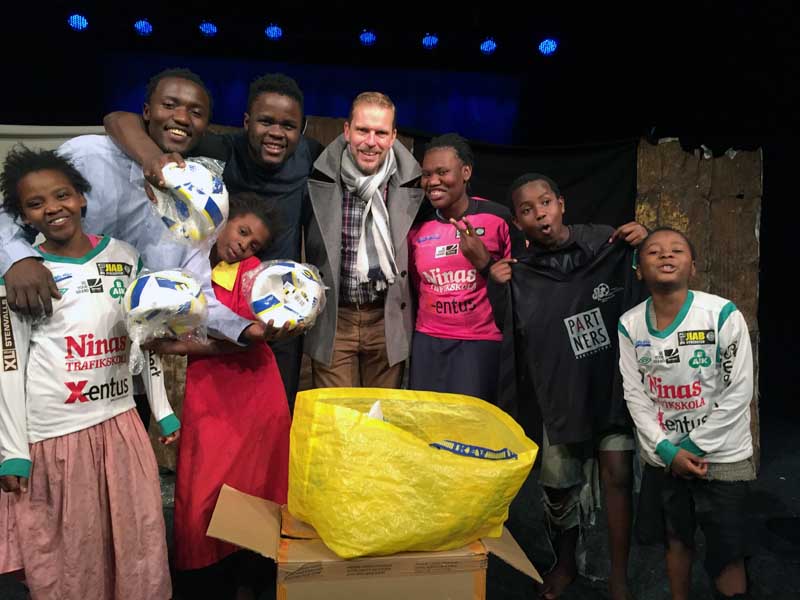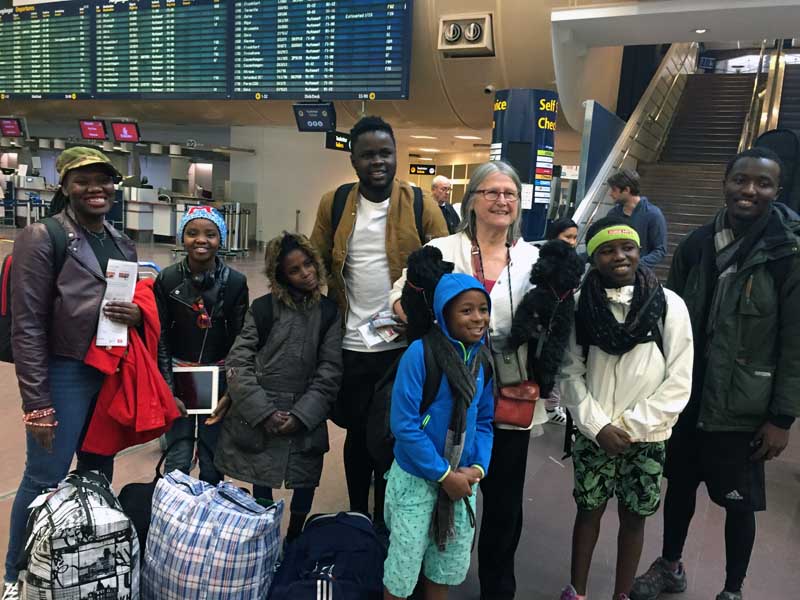 Sävast Kalix Arvidsjaur
16-20 October
Feel like coming home to Arvidsjaur. So many new friends! Thanks Camilla – for everything!
Kalix is also our home! Fun with all who dare dance! Sävast – Boden – Bosse and Barbro – great to see you again!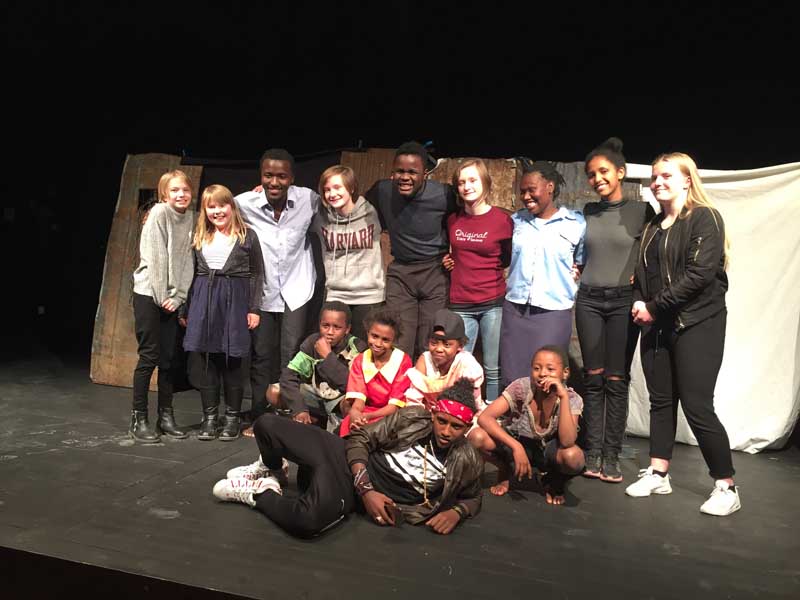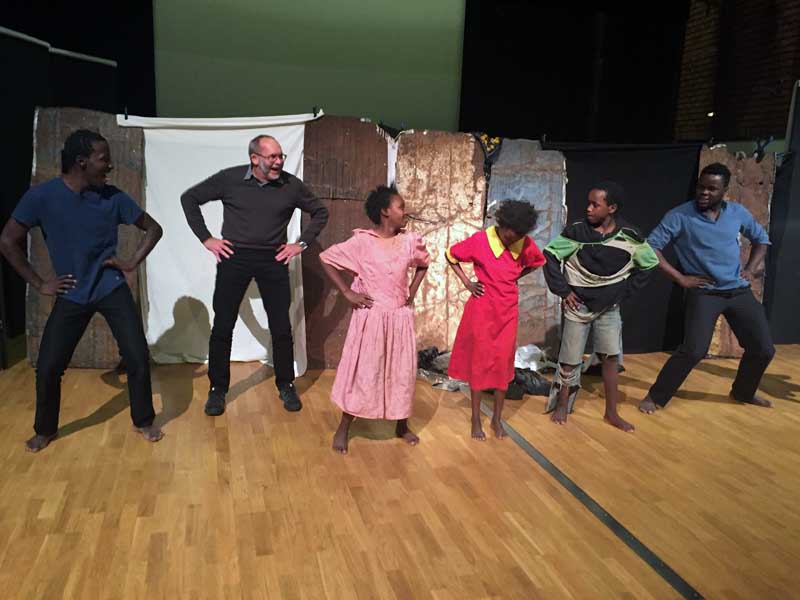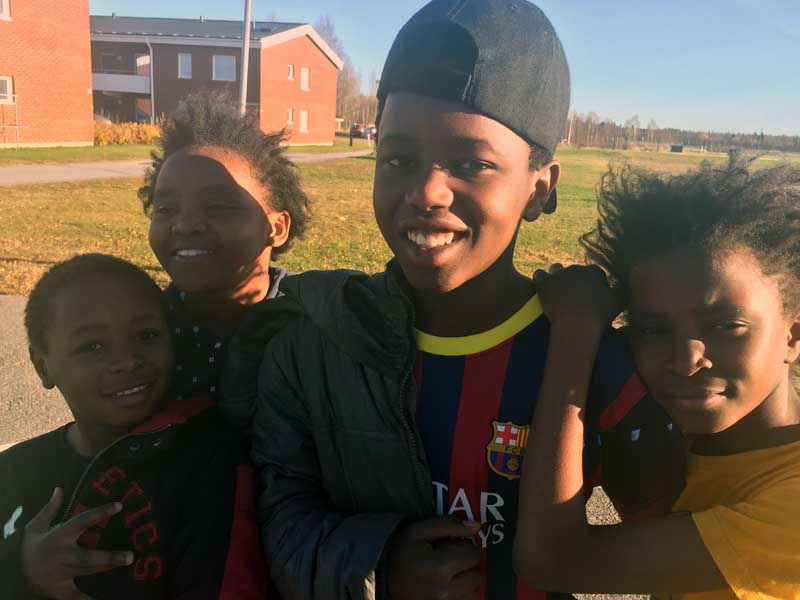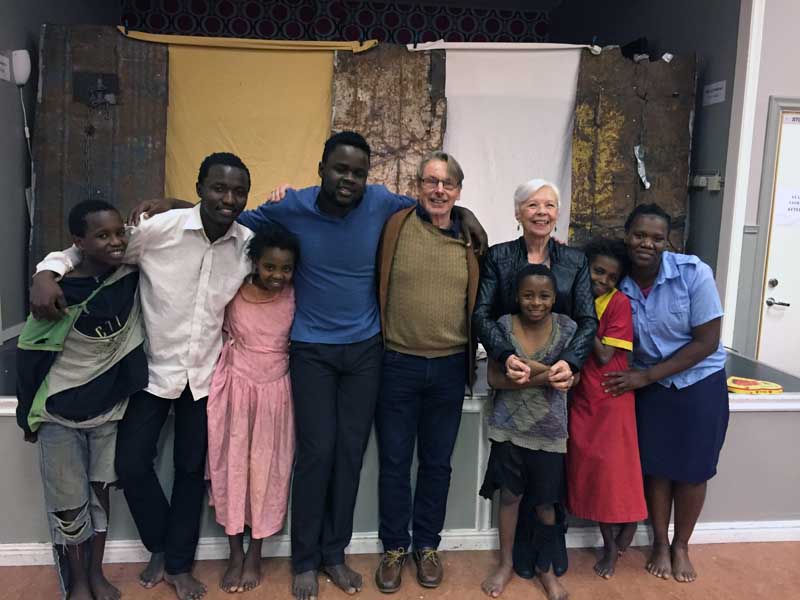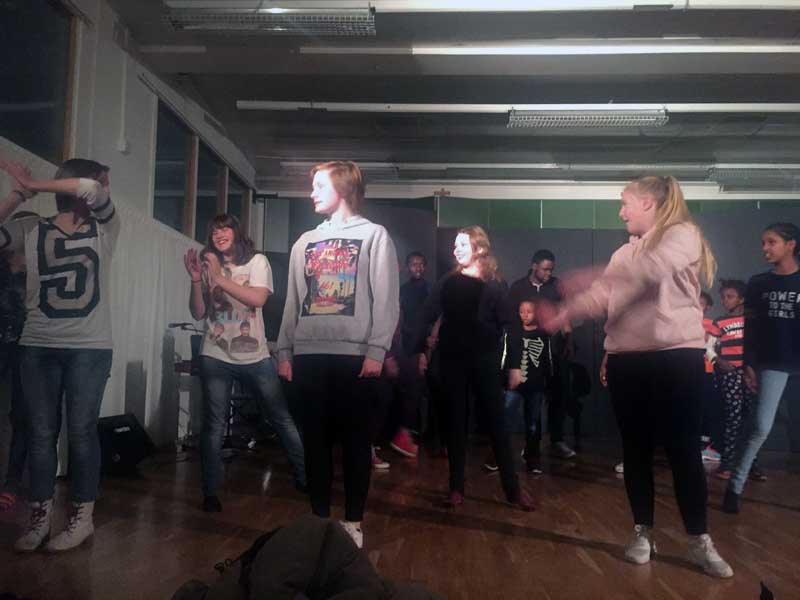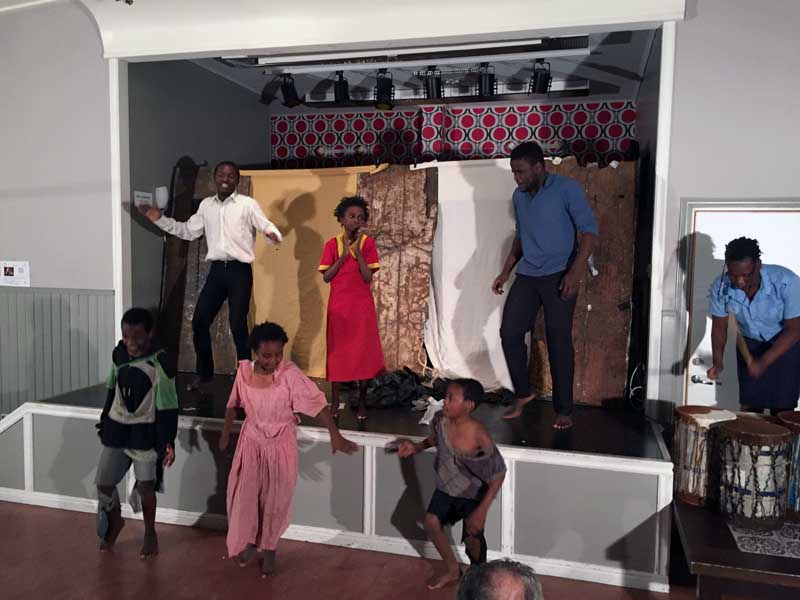 Kiruna Jukkasjärvi Överkalix Boden
9-13 October
Kiruna – Here we come! We take props in and out of the minibus – in and out of the numerous places of performing. Högalidsskolan – we think this school has the most spectacular view! Jukkasjärvi – we understand why your ice hotel is world famous!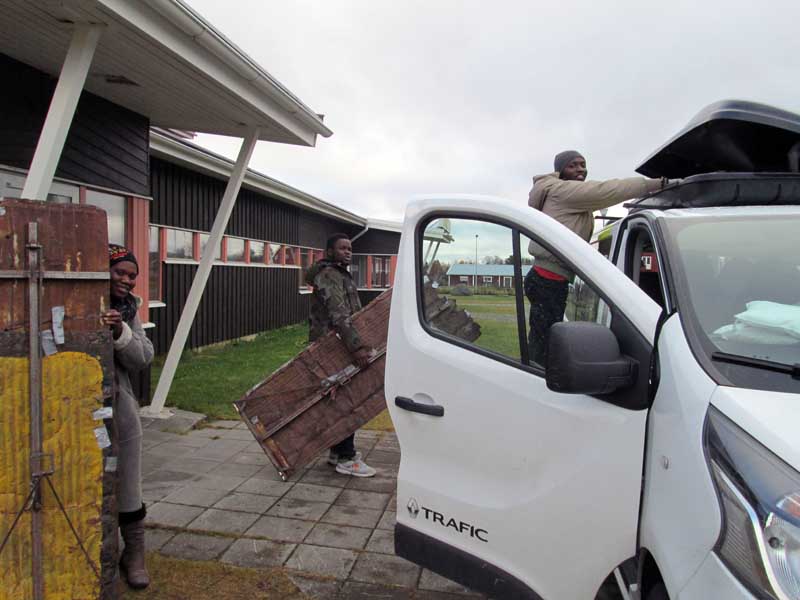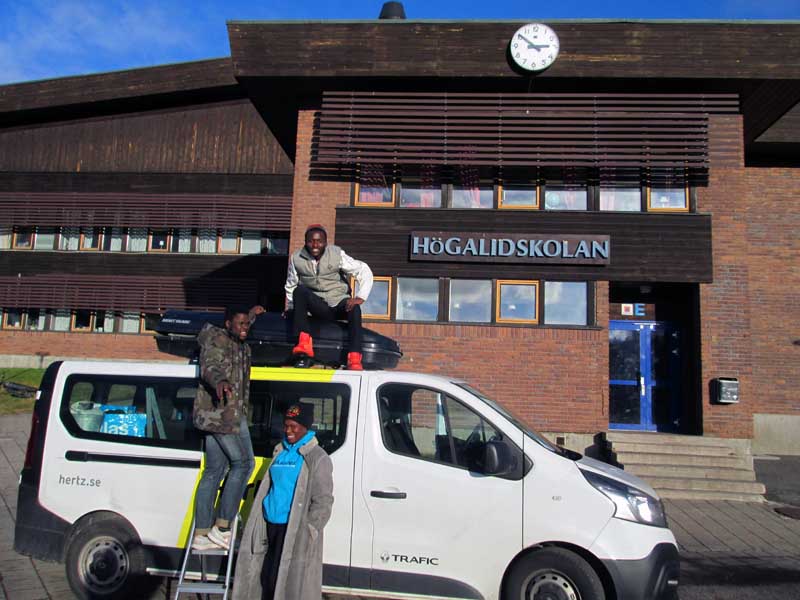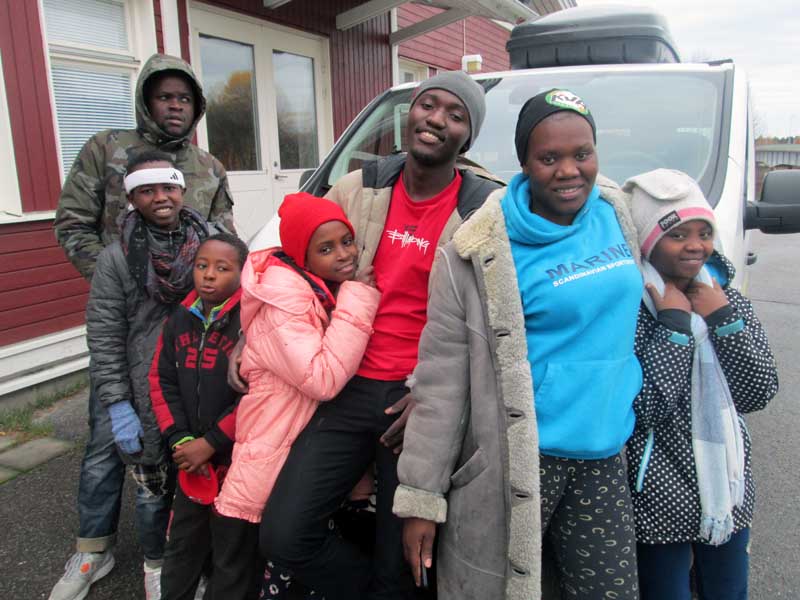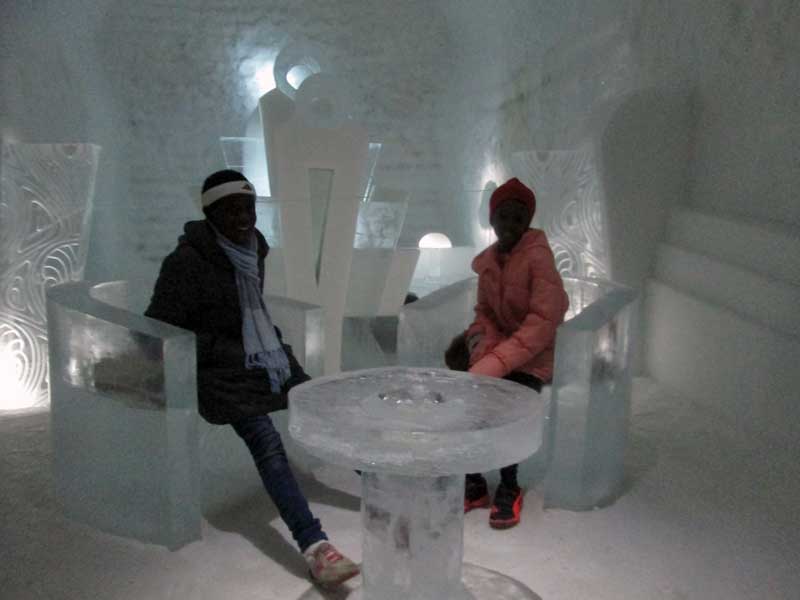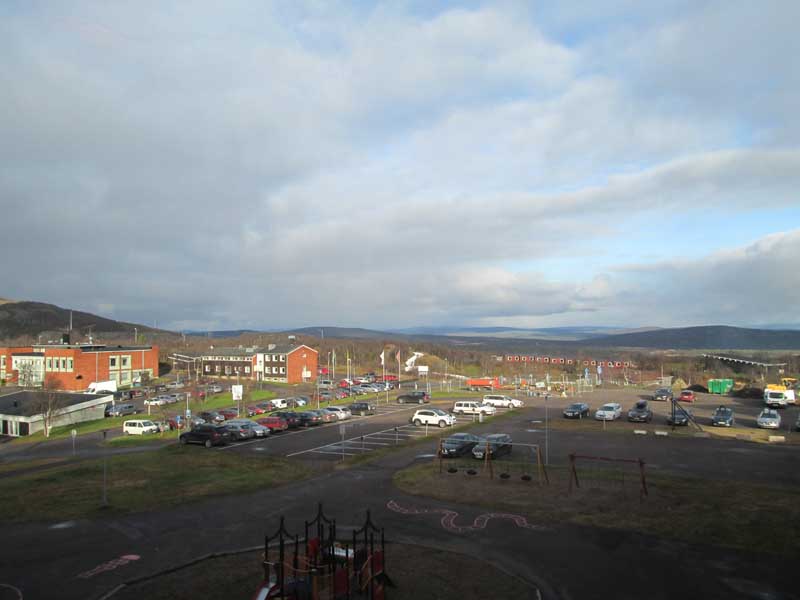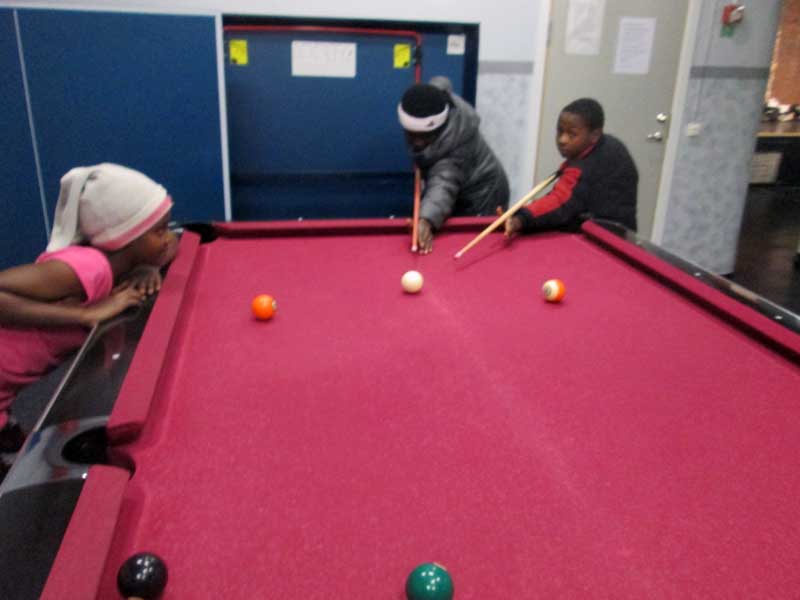 Jokkmokk Gällivare Kiruna
2-6 October
The audience – you are the best! We love you! We wait for Kajsa at the airport. Now the tour in the north can start. Nya Raketskolan can be translate to the New Rocket school – yeah you reach to universe! See you again 2018!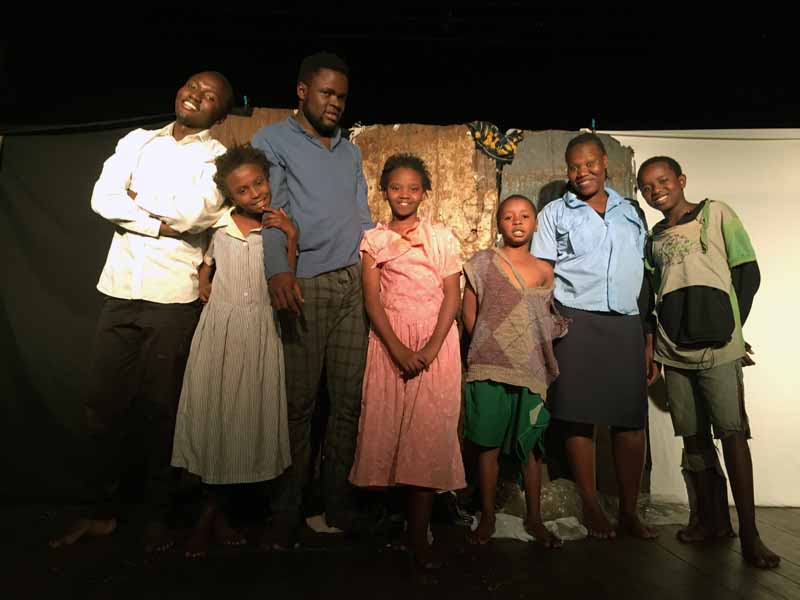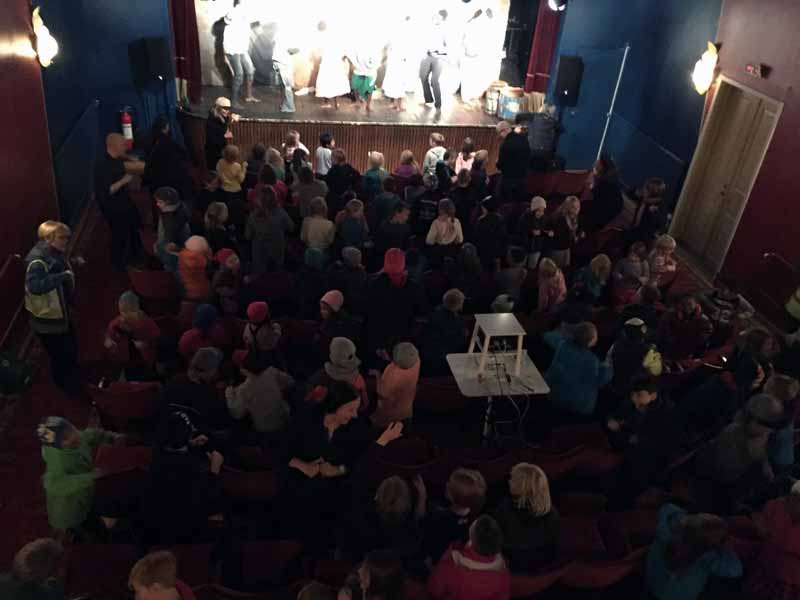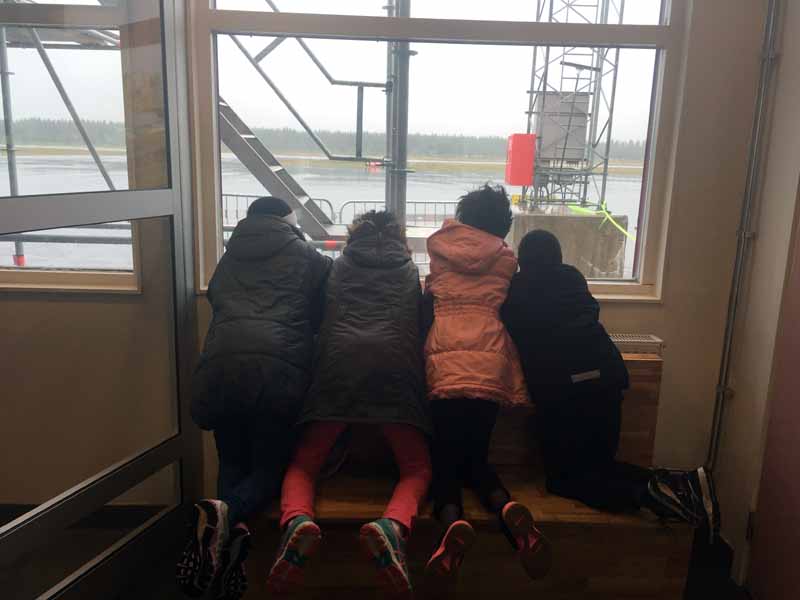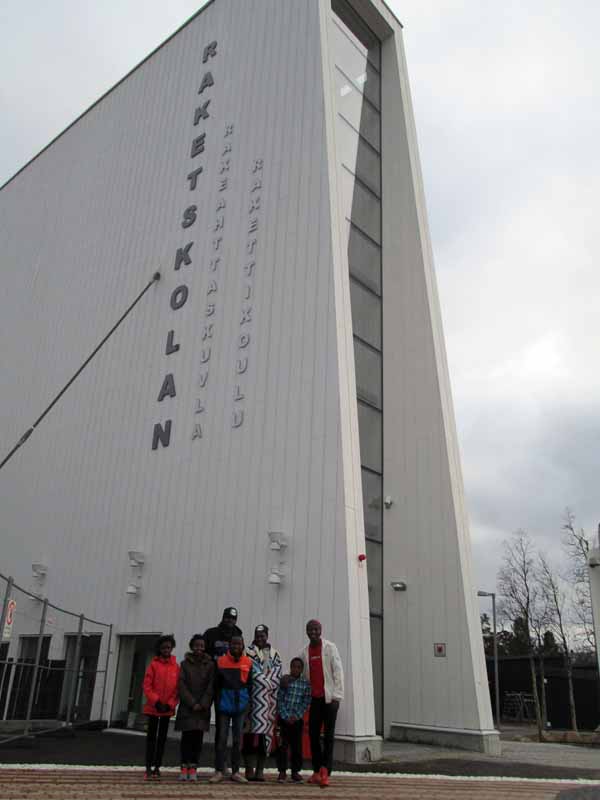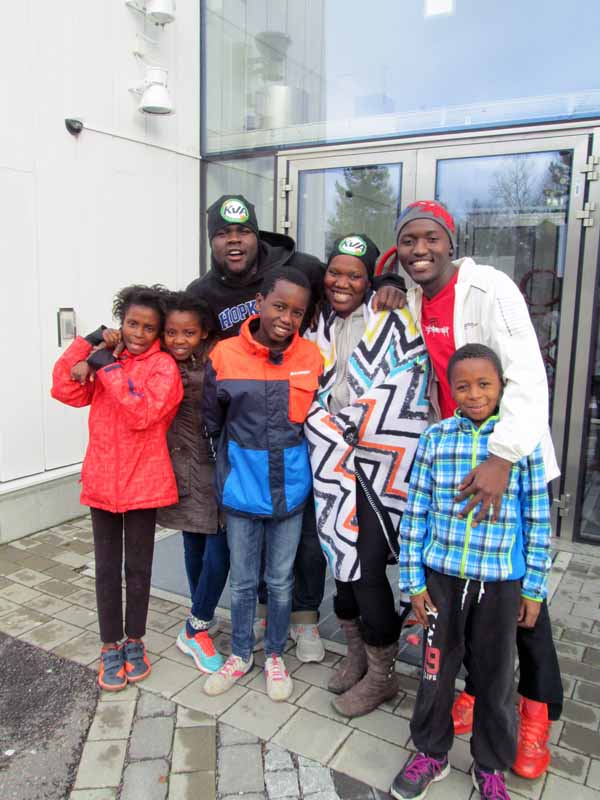 Strängnäs Mariefred Farsta Skärholmen
25-29 September
My Life at the Cathedral in Strängnäs – a massive experience! The last performance in Farsta – but we meet again in Dandora in January! Thanks for all presents, clothes, shoes, toys…!!!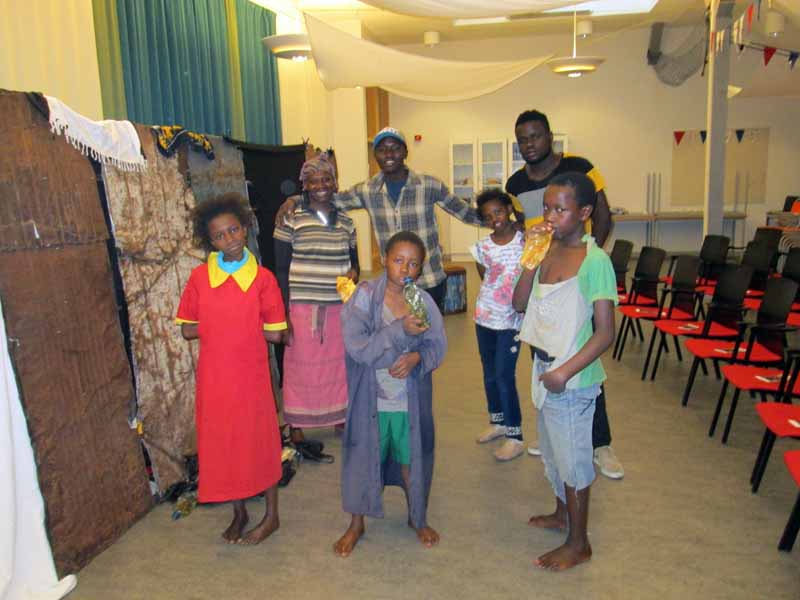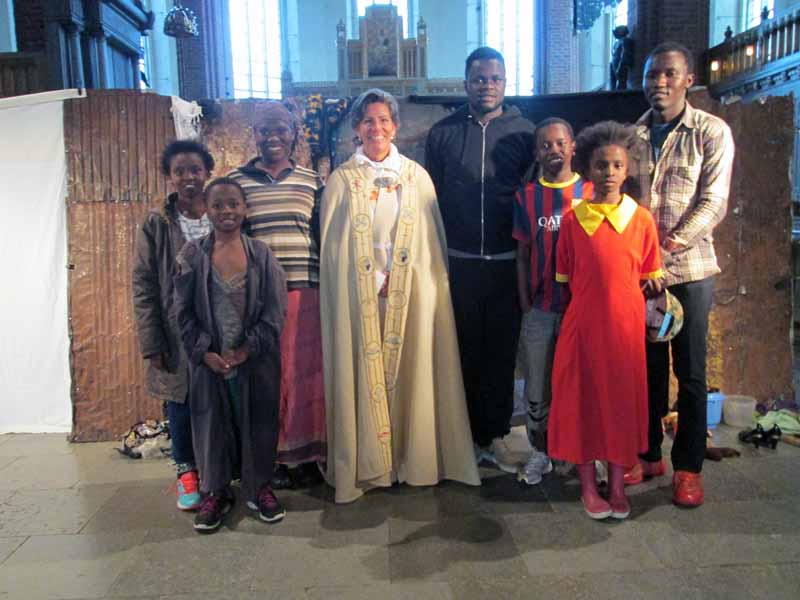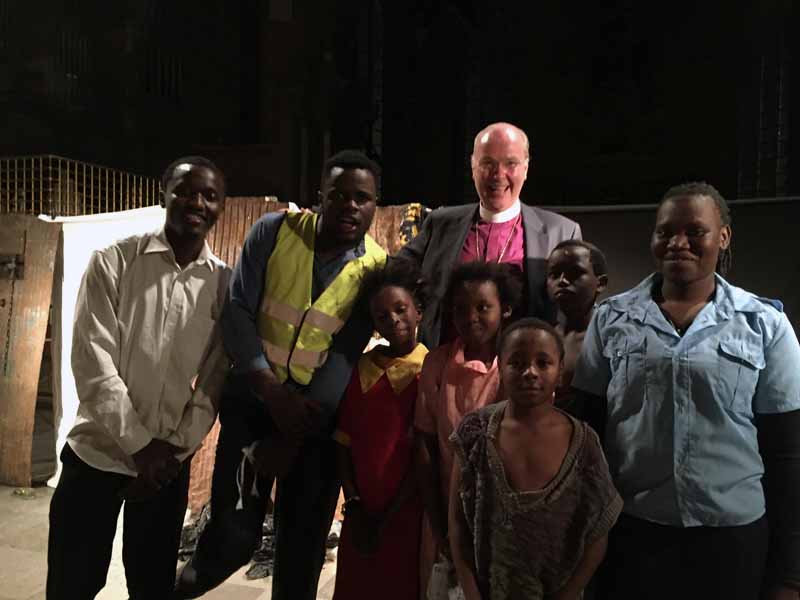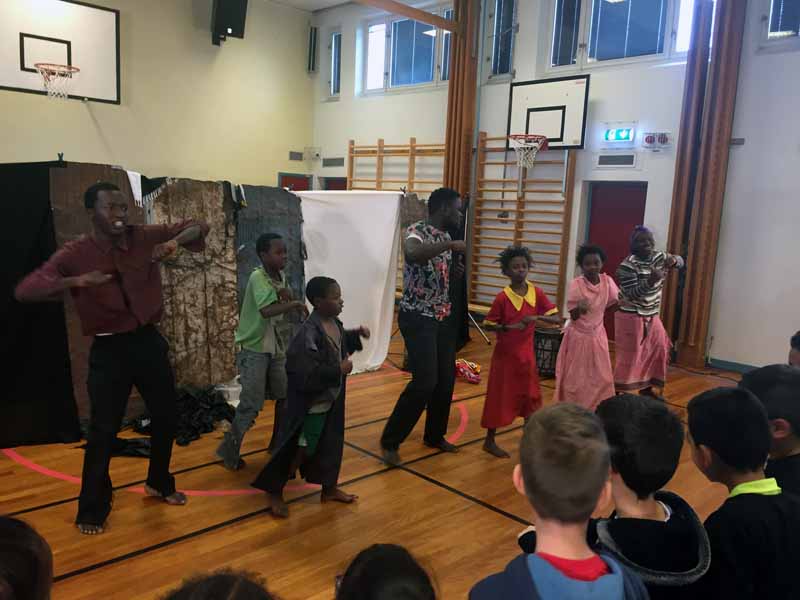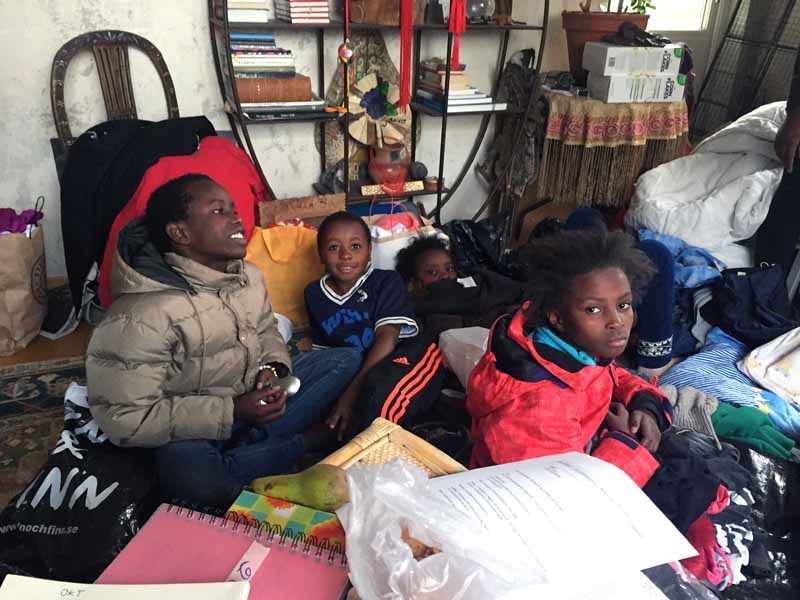 My Life Nämdö
23 September
Get water out of Kajsa's rowing boat and swim before we perform at Nämdö church – a lot of fun!
Rowing – is not easy!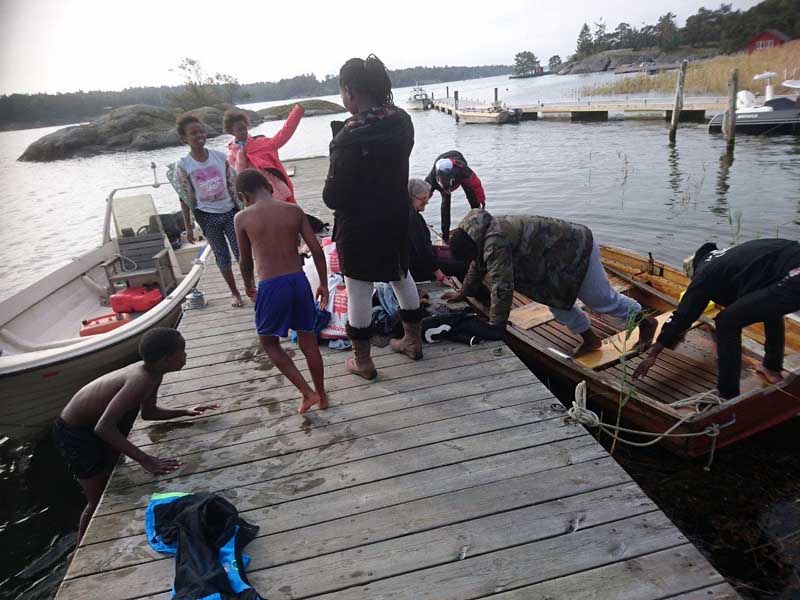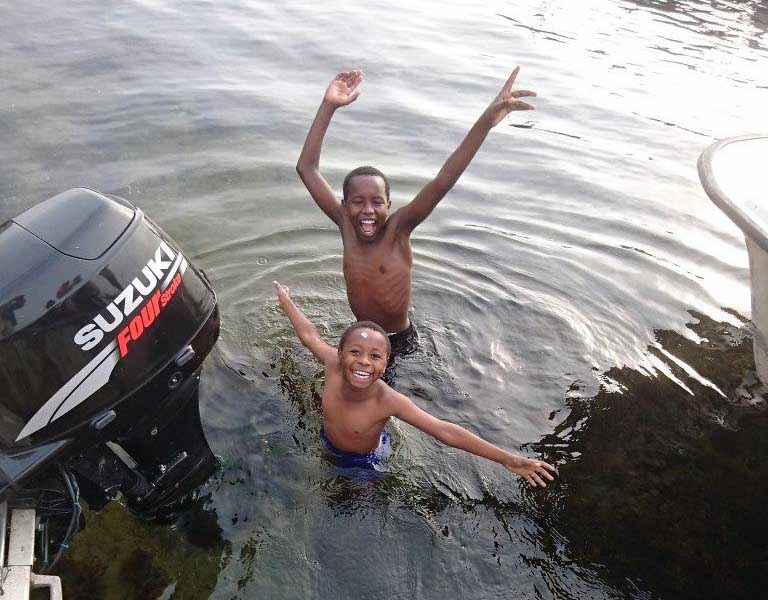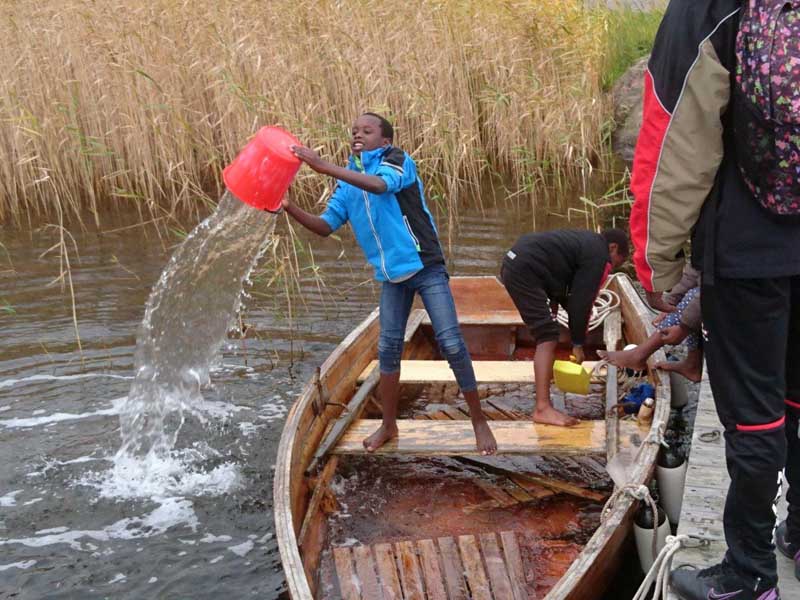 Agnes and Sara – thanks for coming to the public performance at Blå Huset! We are family"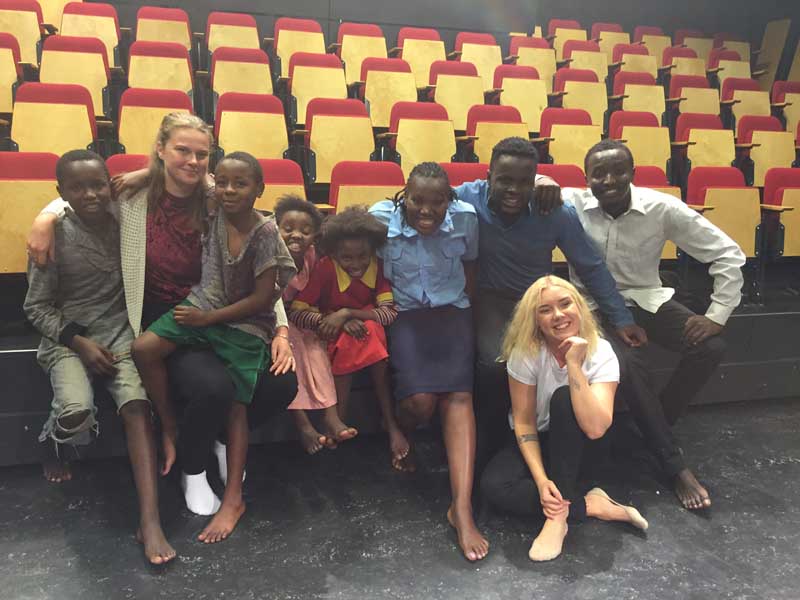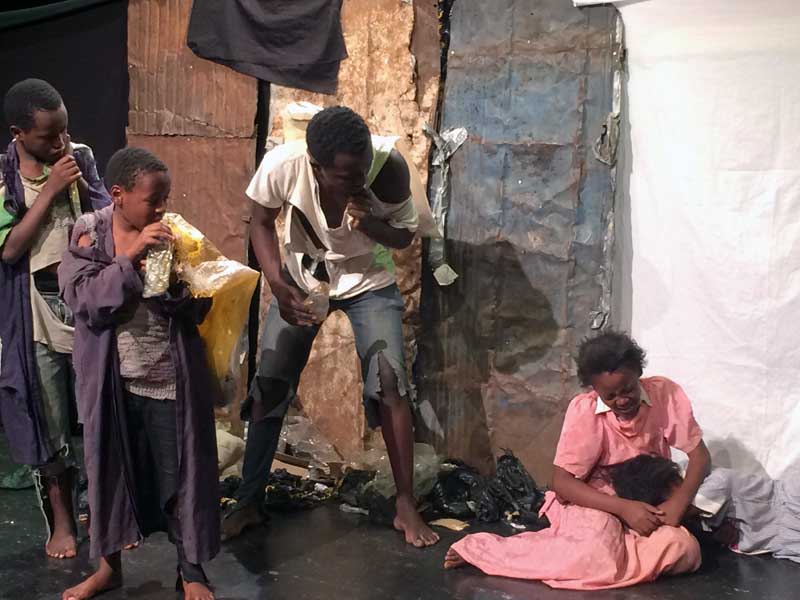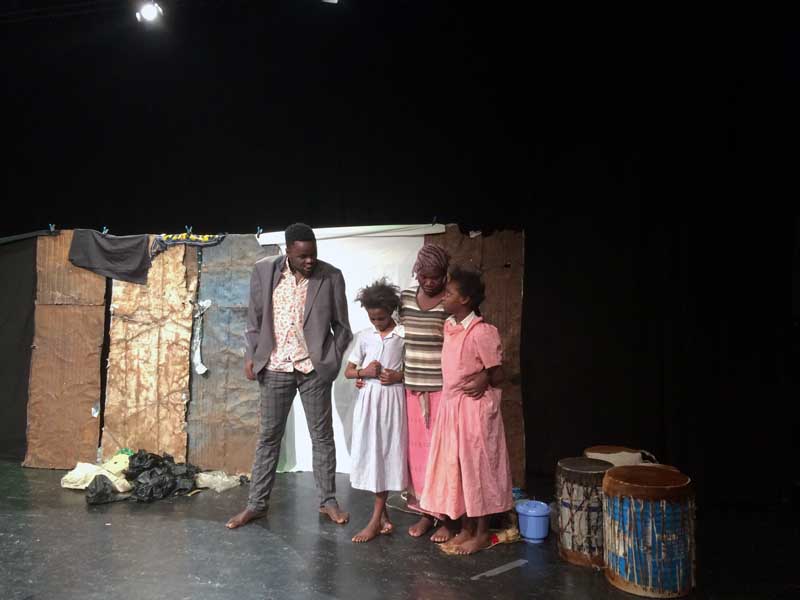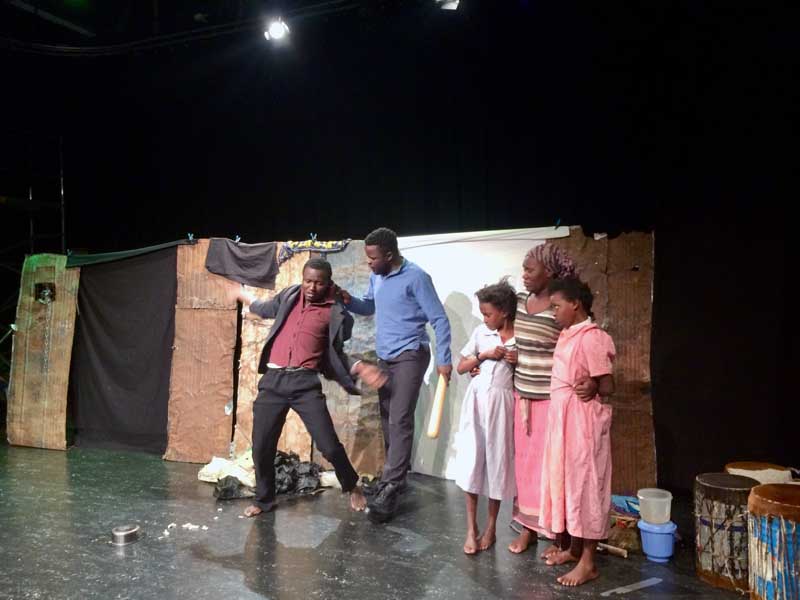 Daniel's first visit to a dentist
19 September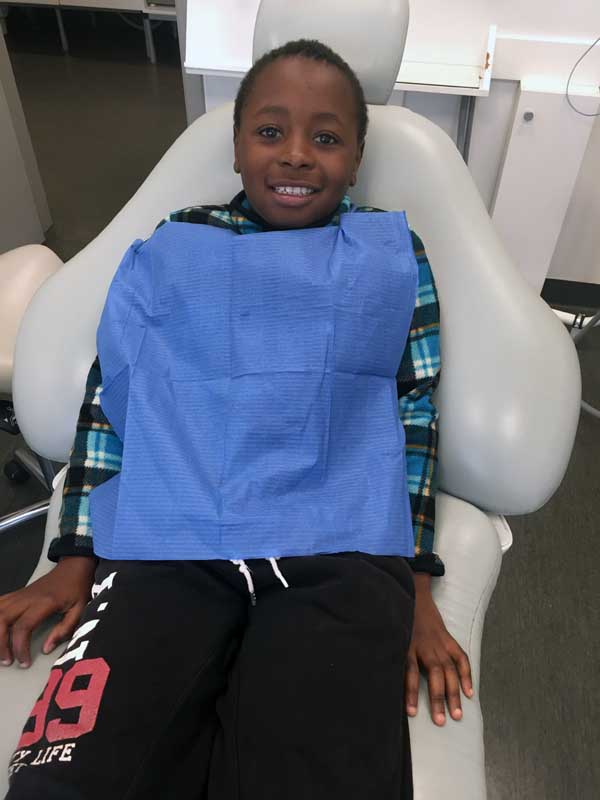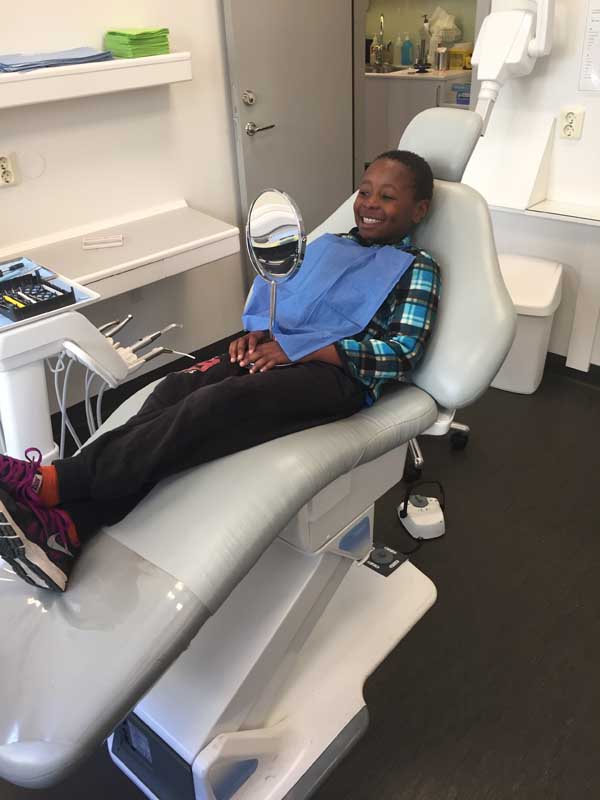 Here we are – resting!
15 September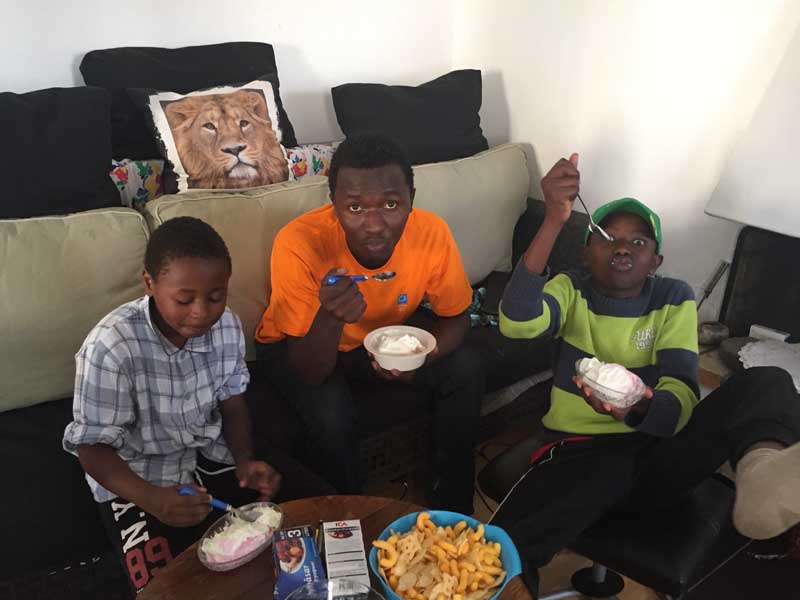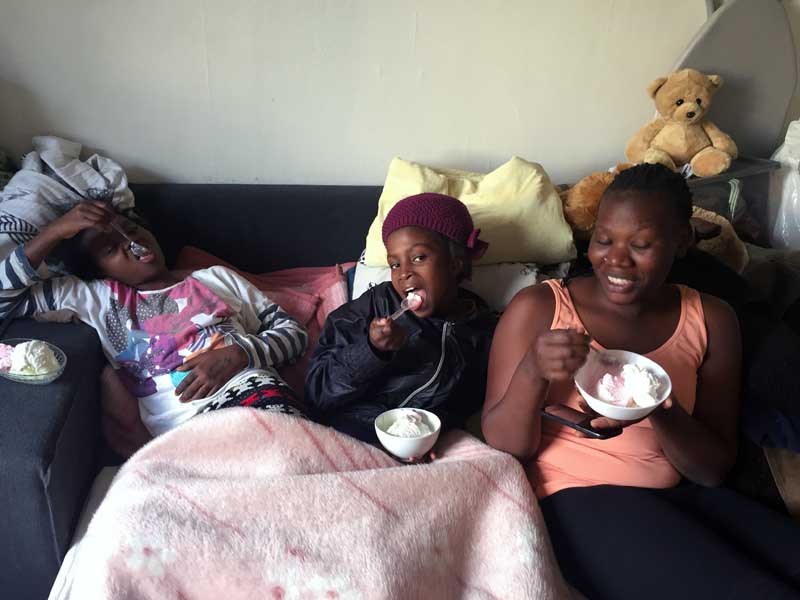 Blå Huset Tensta
14 September
It was special when we performed for so many policemen in Tensta. So different between Sweden and Kenya.
We had such a good talk after the performance – together with pupils from secondary school.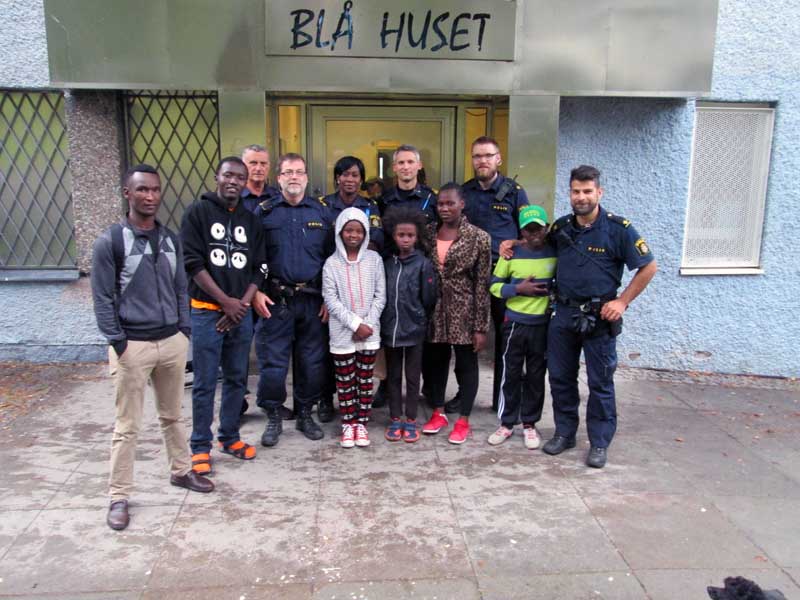 Björkebyskolan Järfälla
13 September
We are the theatre group from Dandora! We slowly get the feel of team!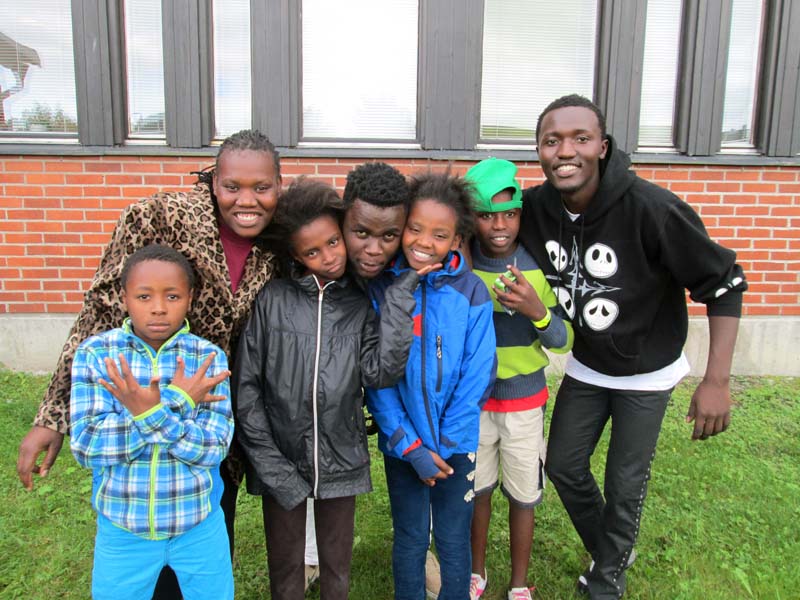 A lot is new – like bubbles in the chest!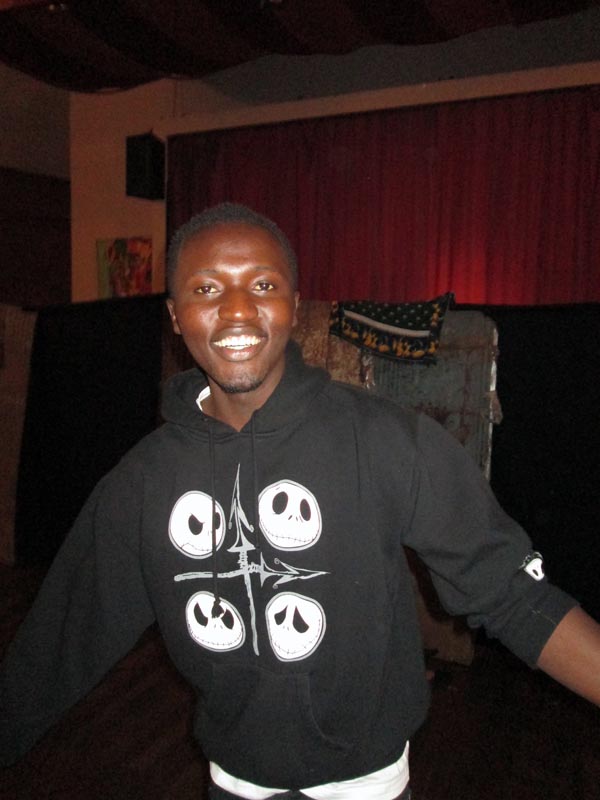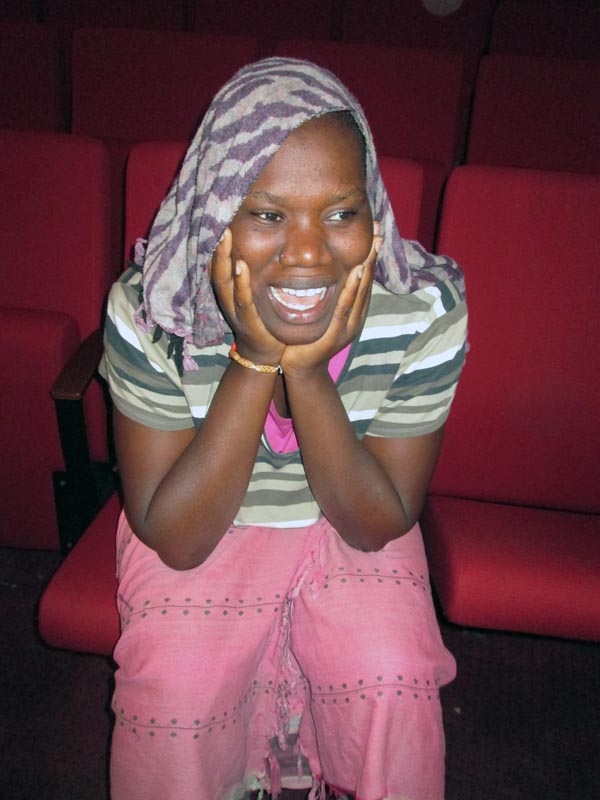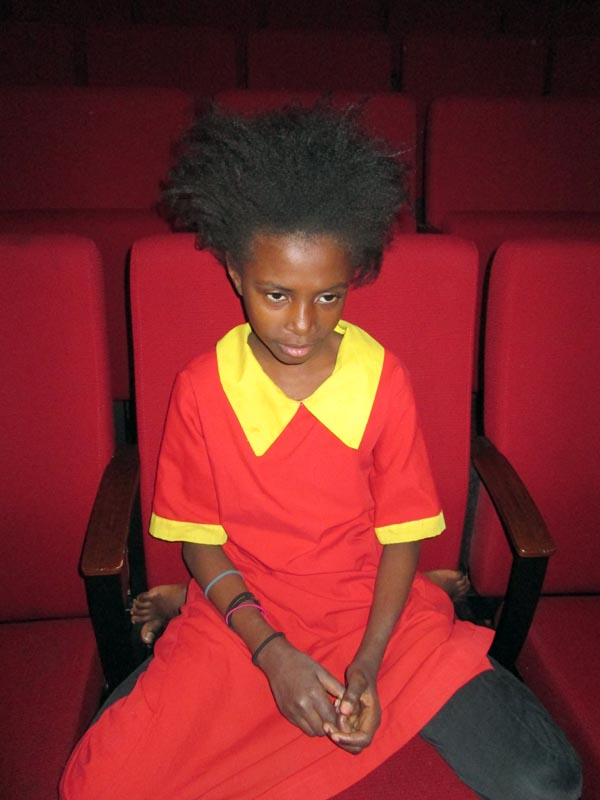 Saltsjöbadens samskola (school) in Nacka
8 September
Change roles, play and have fun is part of the warm up before the audience arrive.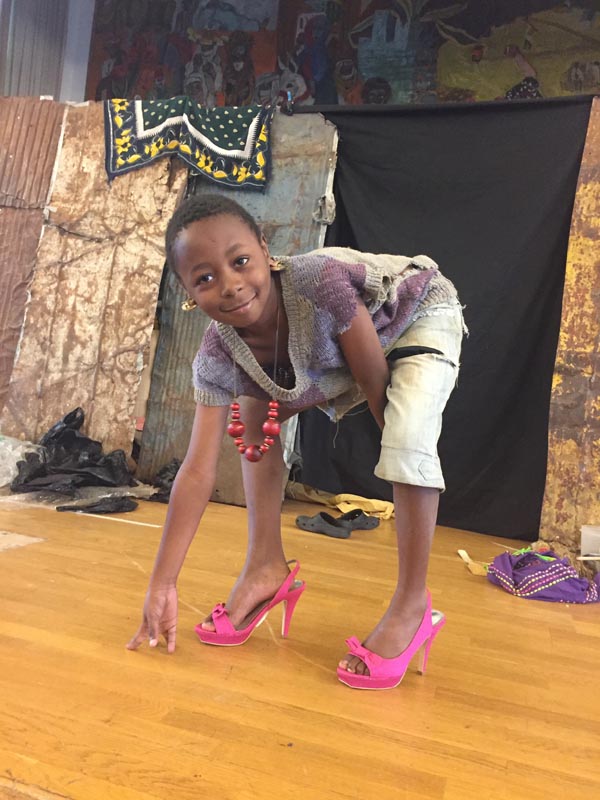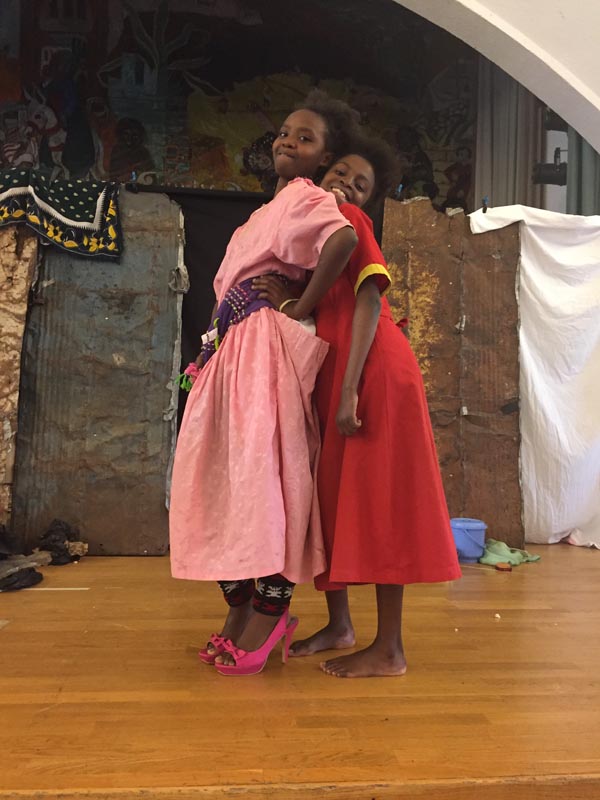 Saltsjöbadens samskola (school) in Nacka
7 September
Visit at Farsta school in Stockholm
5 September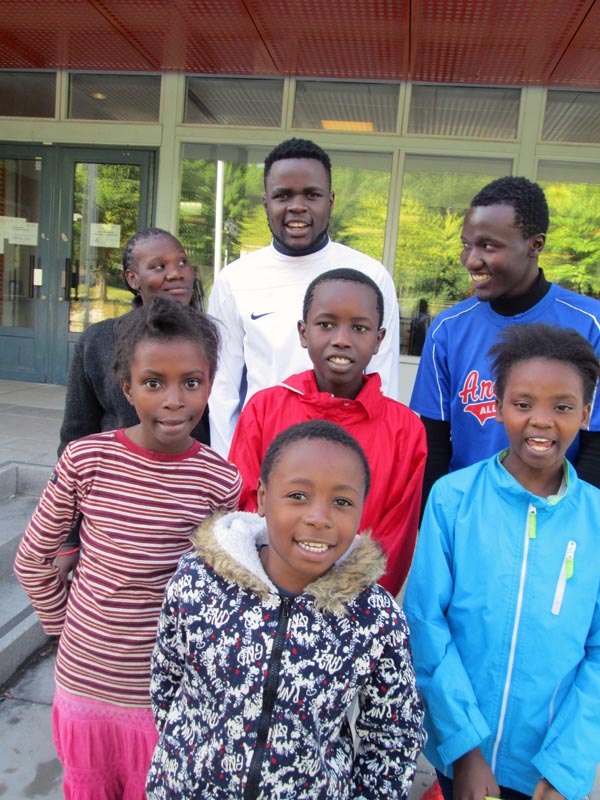 Gustavsbergsteatern
4 September
What a great theatre! And it was so nice with all the discussions in the classrooms at Ösbyskolan. Too bad – we forgot to take photos!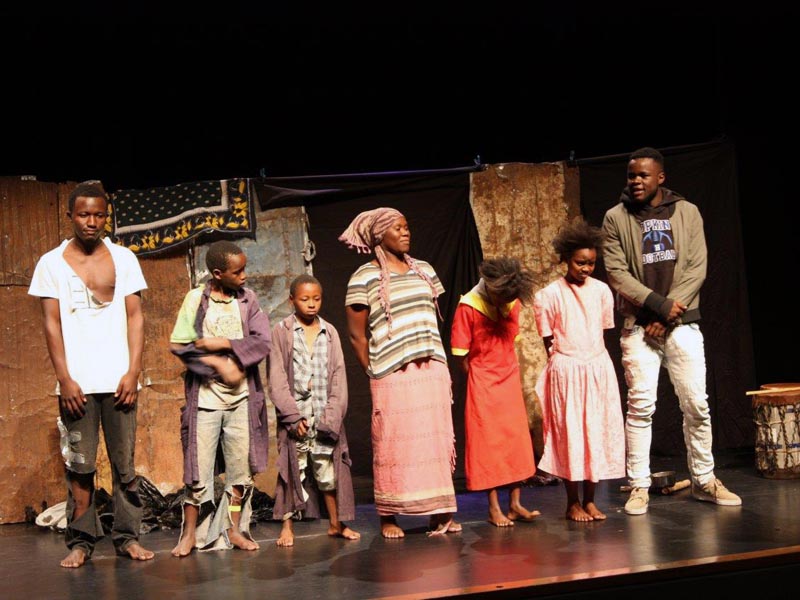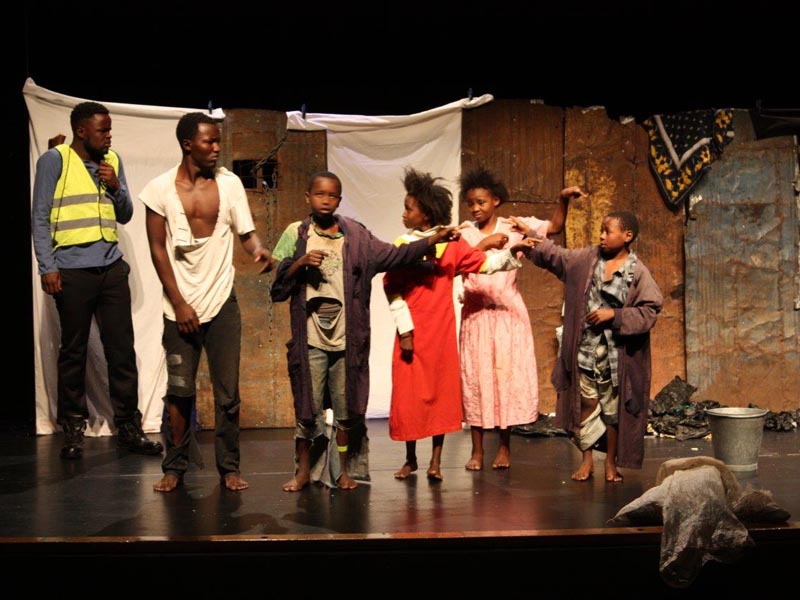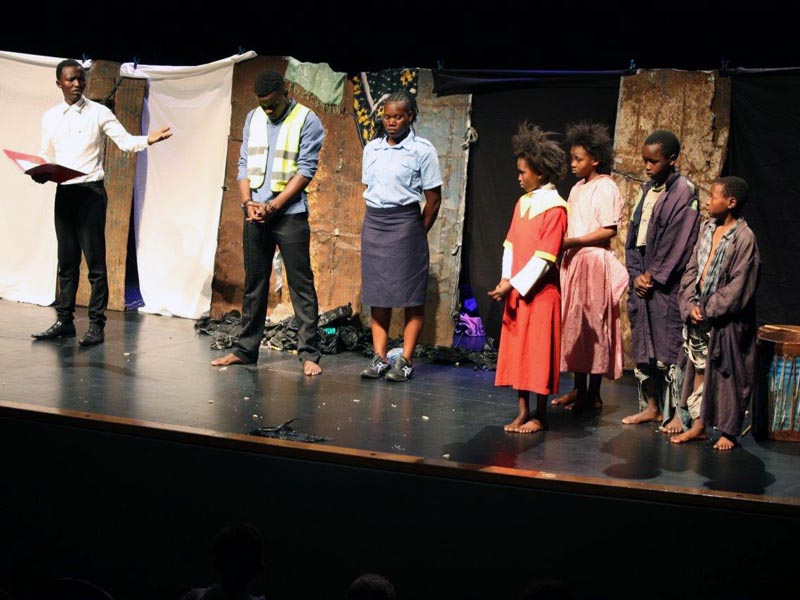 Opening performance of Child's Life in Farsta
The opening performance of  Childs Life took place in Farsta elementary school. During September, My Life and Child's Life will be performed in and around Stockholm. The tour will then continue to the north of Sweden in October.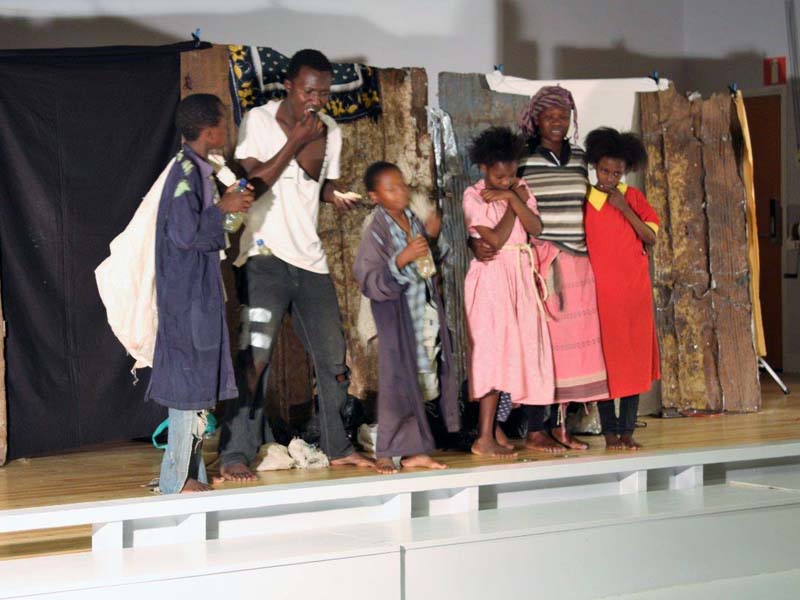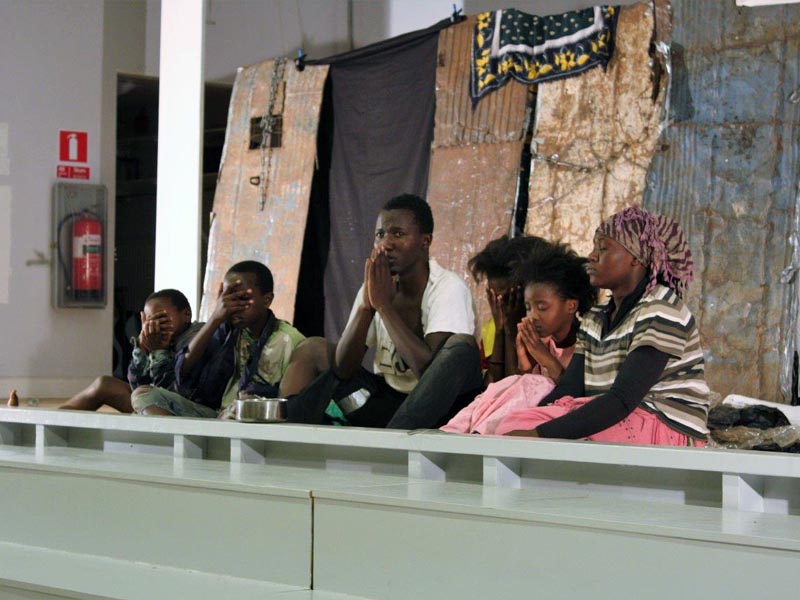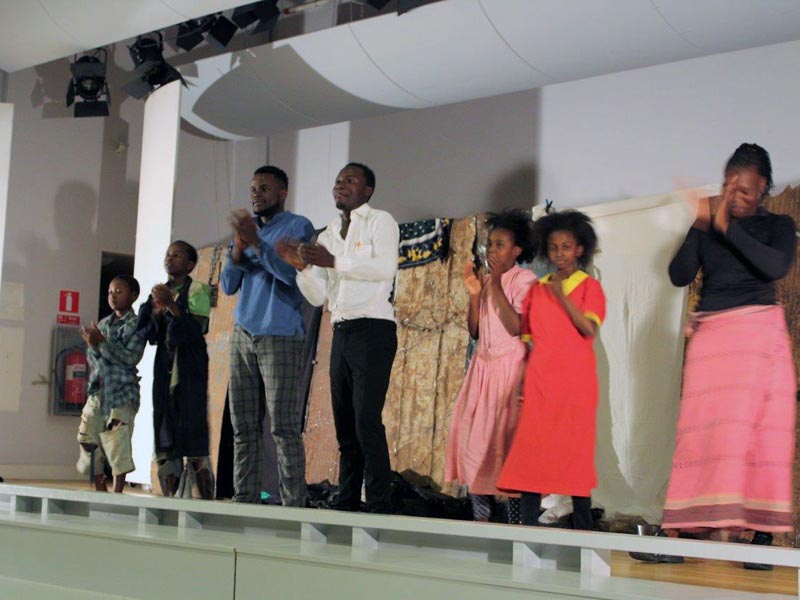 The Four Elements Garden 
at Nämdö
The 4 Elements Garden will be a new meeting place at Nämdö island in the Stockholm archipelago located next to Globetree working space and the Local Community Centre.  Children, young people and adults can meet and experience local traditions and craftmanship. Open all year round for everyone – locals and visitors. July 12 was kick off and  25 persons helped to clear the area. Värmdö municipality has given a start grant to the project.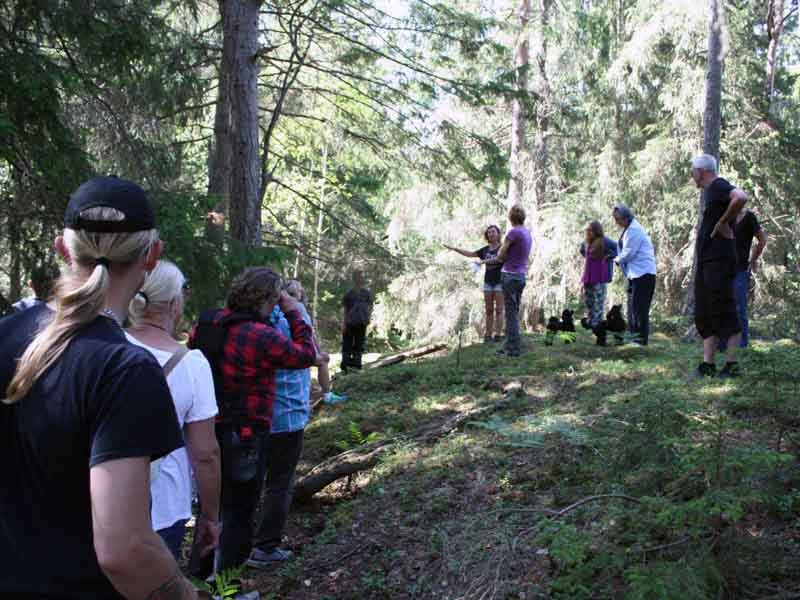 The Global Development Goals at the Almedal Week
Kajsa participated as key note speaker at a seminar day on the Global Development Goals (GDG) 2030 at Almedalen, a well known week for political debates at Gotland, an island in the Baltic Sea. The seminars were organized by Hållbart Nu (Sustainable Now) and focused on creative ideas and co operations to reach the goals and highlight the 50th anniversary of the Stockholm Conference in 2022. Kajsa suggested bridge building between Stockholm and Nairobi for the 2022 event and received interest for the idea.
M
y Life – Re
hearsals in Kenya
Peroy in Globetree went to Nairobi for rehearsals of the performances My Life and Child's Life in April. Six new actors worked together with Jackson Obura who has been on tour in Sweden four times. Peroy is impressedby the new toeam; – It will be great performances – the actors are amazing! The tour will be: September in Stockholm City and County. October in the north of Sweden – Norrbotten..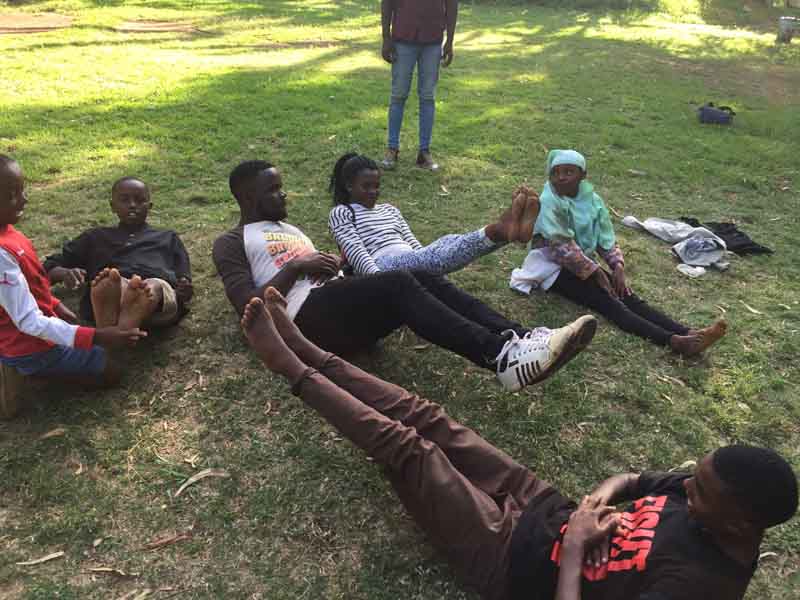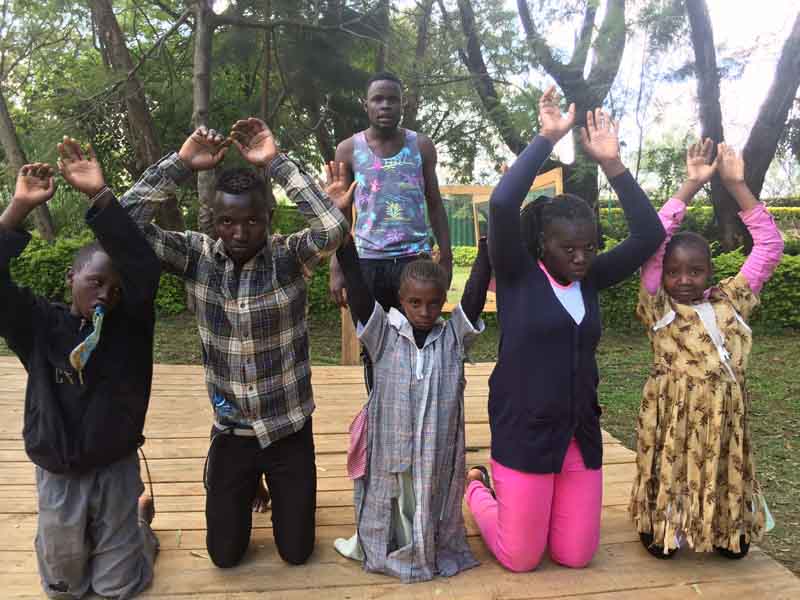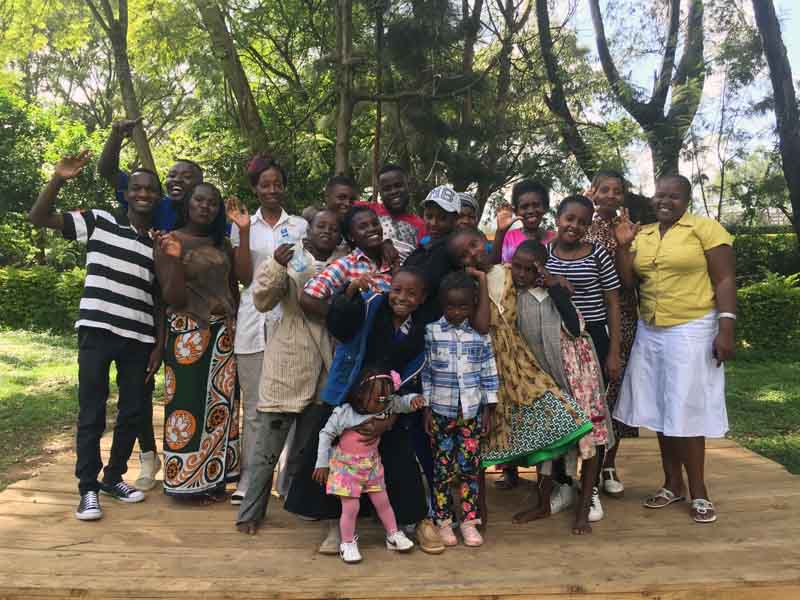 President of Globetree is key note speaker at the
Watershed Conference at the Vatican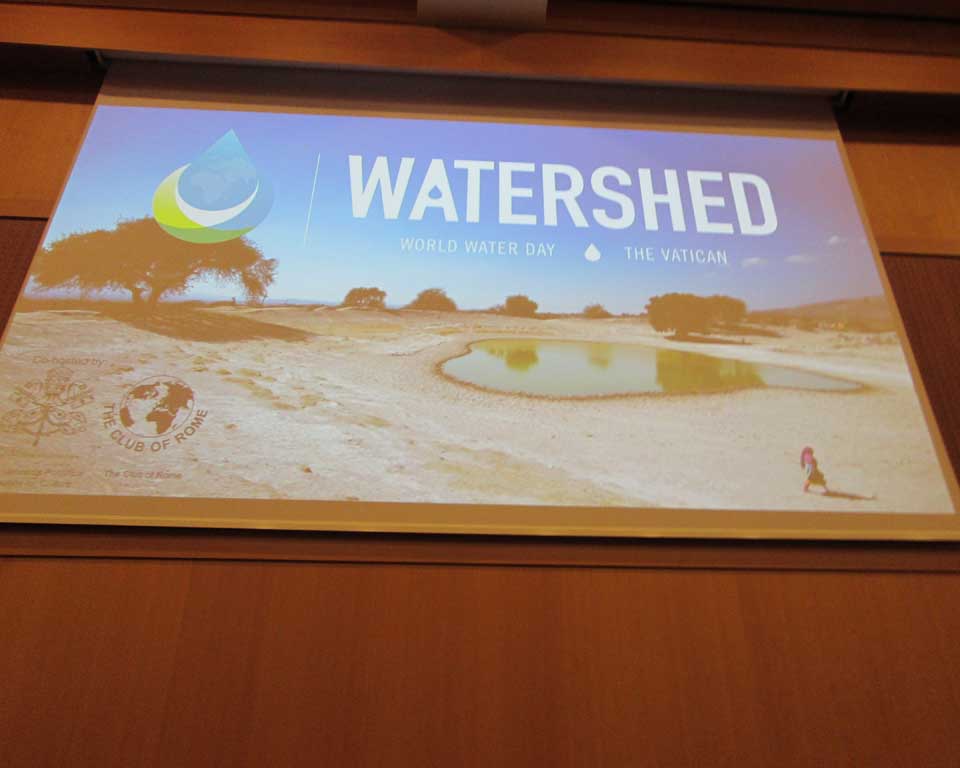 Globträdet was invited by Silvia Zimmermann from the Club of Rome, Argentina who organized the Watershed conference in Rome between the 21-23 March.
Pope Franciscus message at World Water Day was:
I also offer a special welcome to the participants in the "Watershed" Conference on replenishing water values for a thirsty world", co-hosted by the Pontifical Council for Culture and the Argentinean Chapter of the Club of Rome. Today is World Water Day, instituted twenty-five years ago by the United Nations, while yesterday was the International Day of Forests. I am happy that this meeting is taking place, for it represents yet another stage in the joint commitment of various institutions to raising consciousness about the need to protect water as a treasure belonging to everyone, mindful too of its cultural and religious significance. I especially encourage your efforts in the area of education, through programmes directed to children and young people. Thank you for all that you do and may God bless you! Read more
©   Copyright – Libreria Editrice Vaticana
Globetree invited to conference "Watershed" in Rome
The Watershed conference
March 2017
Kajsa Dahlström: I'm invited to Rome as key note speaker at the Watershed Conference on World Water Day the 22 March. I will speak of Children and Water. When I rehearsed My Life last month, I suddenly realized children from Dandora should join me at the Vatican and tell about their water environment next to Nairobi River and the huge dump site – one of the biggest in Africa. We started the preparations, which is always a long journey.  Two glass globes will be filled with Our Uniting Water and water from the Vatican … and the children sharing their experiences… Just now I get the message: – No visa for the children.
Hmmmm how can the world hear the children and feel their commitment – when they are not there…?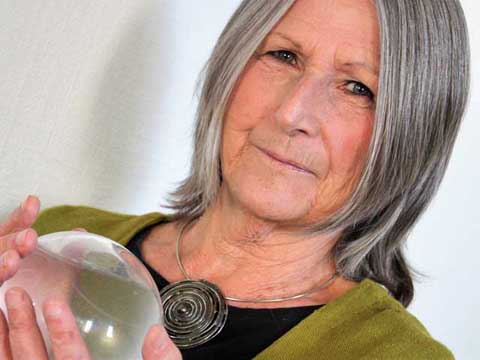 Meetings with UNON and My Life rehearsals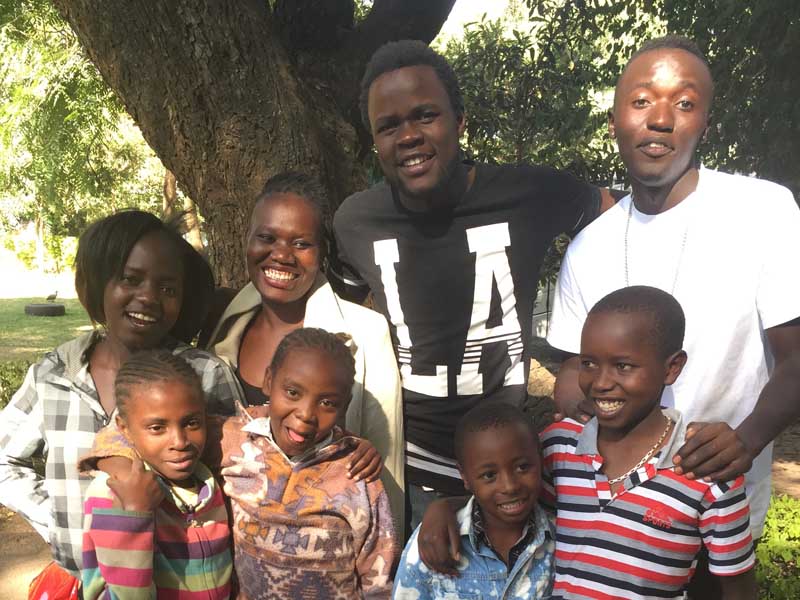 Meeting with UNON and My Life Rehearsals
February 2017
Kajsa met with UNON (United Nations, Nairobi). The decision is taken – we can develop the area around the Children's Meeting Place to make it more visible, accessible and fun!
I rehearse the performances My Life and Child's Life with the seven new actors who are 10 – 24 years old. The tour will be two months in September – October this year in Sweden.  All worked hard and with 100% focus – and a lot of laughter!
To UN, New York
February 2017
Kajsa Dahlström: In January I go to New York to get my UN-pass (ECOSOC) and meet friends. A full day (and late evening!) together with Eleanor Johnson, founder of Emmatroupe, sharing ideas for future project. We pass Washington Square Park and feel the history of New York very present.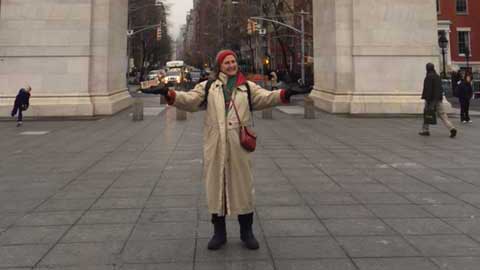 Study tour to Kenya January 2017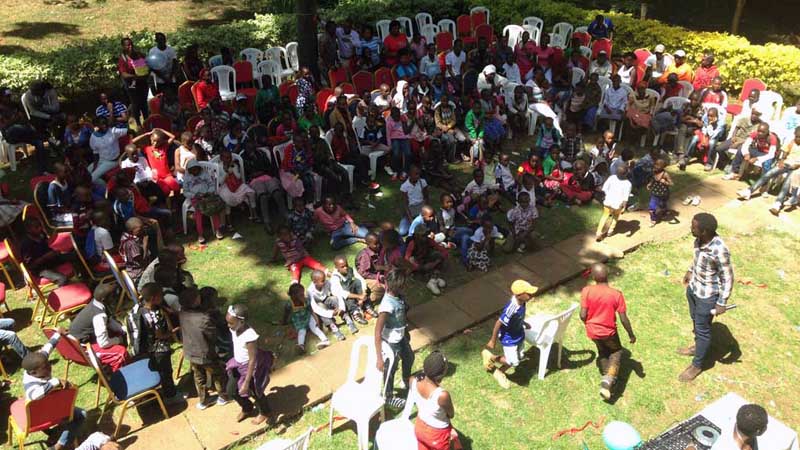 Study tour to Kenya
January 2017
We are 10 joining the 2017 study tour to Kenya; 6 adults and 4 youth. Again pupils at Farsta school collected hundreds of presents for the Christmas party!
Lois Ekengren, teacher at the school, made a documentary of the study tourwhich she has shared with us. Her original versionen is on Instagram (but in Swedish).
http://www.instagir.com/farsta_i_varlden
Kajsa Dahlströms report from Kenya och Tanzania
Meeting at the Childrens Meeting Place, UN, Nairobi
November 2016
Six persons from UNEP, UN Habitat and UNON came together and discussed the Globetree suggestion to develop the area around the Children's Tree on the grounds of the United Nations, Nairobi. All agreed: – Is' a very good idea as UNON doesn't have any open space meeting place. Next meeting will be in January. Hopefully the plans are then presented at the Executive level and we can start the work.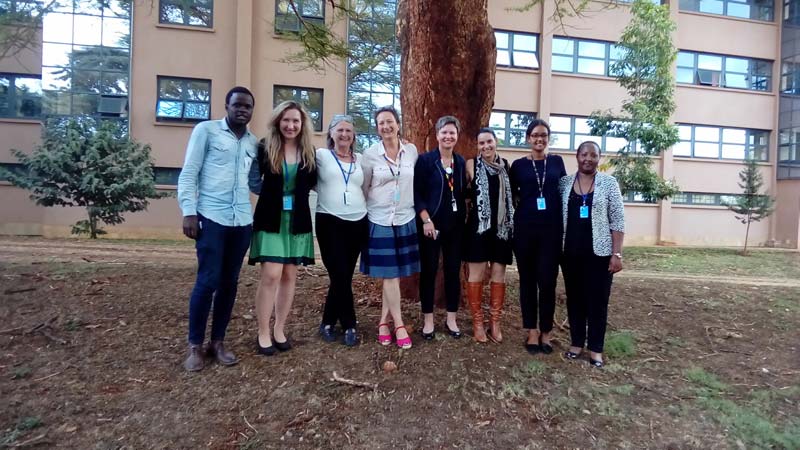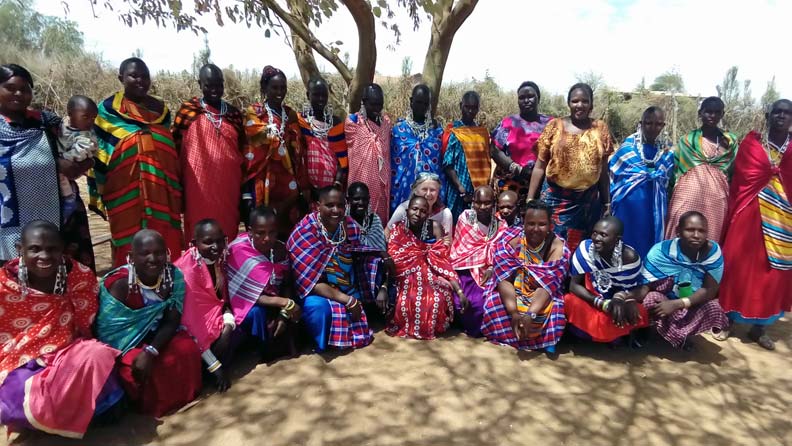 Mother Tree in Maasailand in Emboreet, Tanzania
Kajsa Dahlström: I gave a promise long ago to visit the Mother Tree in Emboreet in Maasailand. I came together with Jackson Obura. The woman group of Emboreet welcomed us, danced, sang and offered very nice lunch. It's a beauty chock to see their clothes and handmade art around the neck, hands, feet and ears. I was given a traditional dress before we went to the Mother Tree to talk with children and the Elders. I brought Our Uniting Water which the Elders gave to the roots of the Mother Tree. Woman sang and the children embraced the tree.
Preparations for the next My Life Tour autumn 2017
In Dandora I met with 17 children who waited for me with a lot of expectations. All hoped to be chosen to be actors in the next tour of My Life and Child's Life in Sweden. I had audition in a narrow space between a metal shag and a better built house. All were great actors – impossible to choose! Peroy and I will have new audition in January. A group photo is a must together with those who watched!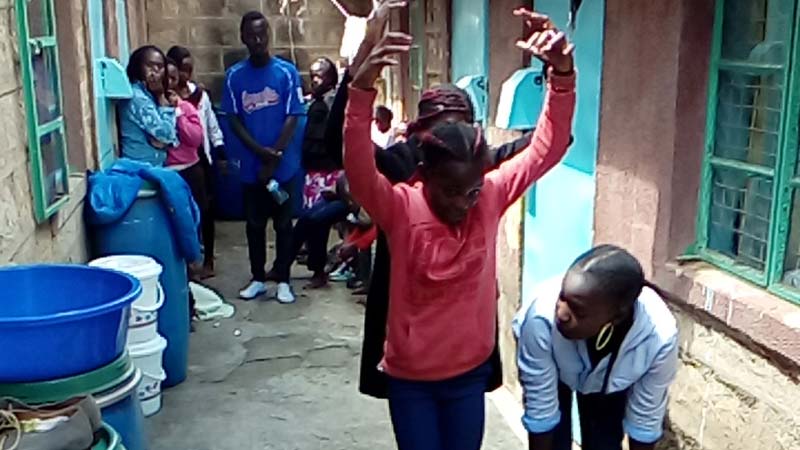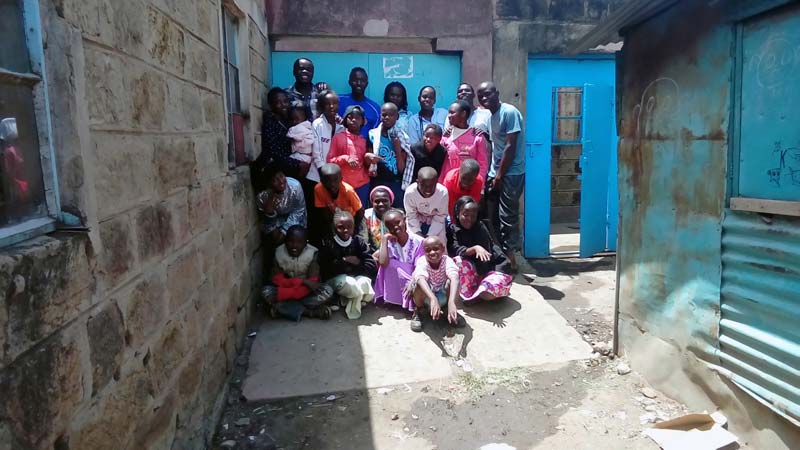 A new NGO Mtoto wa Dandora – Children in Dandora
Jackson Obura is the founder of the new NGO called Mtoto wa Dandora which means Children in Dandora. I met with the Board and members of the new organisation. They have great plans for the future! The ultimate plan is make other business of all what is today dumped on the dump site. At the moment they give lessons in drama, help children with home work and support orphan children. They also have cleaning days to get rid of all grabage in the streets. Most important now: To get a homepage and income. We discussed chicken business which can engage children in the area..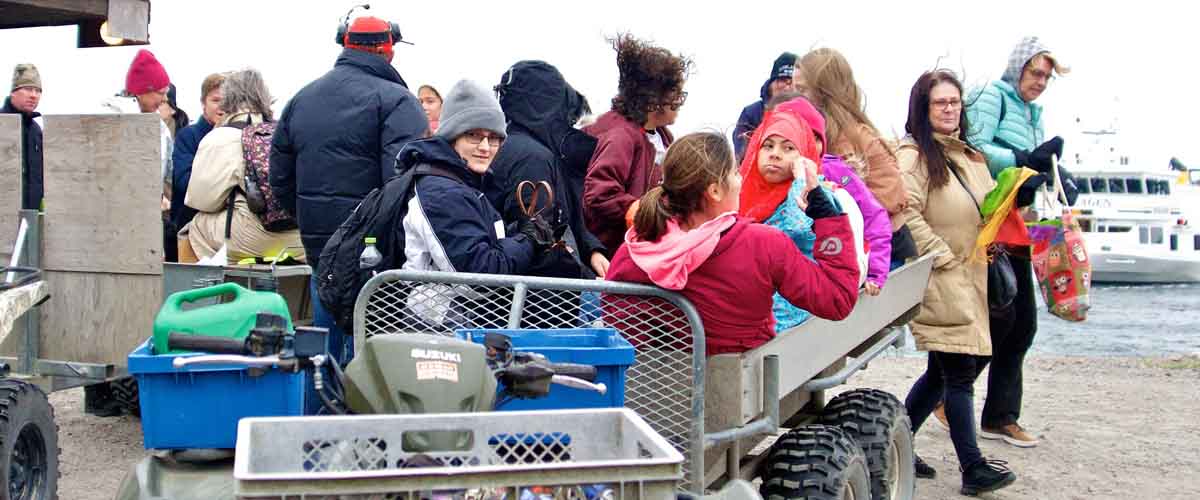 The Yearly  GlobeDay 22 October at Nämdö Island in the Stockholm Archipelago
We went two hours by boat to Nämdö island for the Yearly GlobeDay. 45 young and old gathered at HEMBYGDSGÅRDEN. The program as usual: Reports of events during the year that passed and plans for the coming year. We were welcomed by the vice chairperson of Hembygdsföreningen and then the LAUNCH OF GLOBETREE NEW WEBSITE! Peroy has been the boss of the work and told the many ups and downs in the process. Assisted by Sam and Kajsa in endless writing and looking for information ug down in old files stored – spmewhere…! We celebrated Peroy and the website!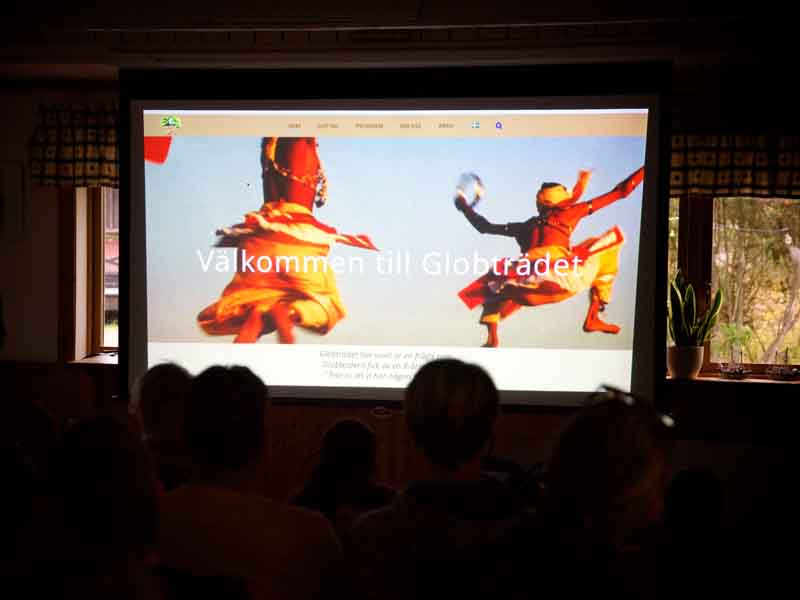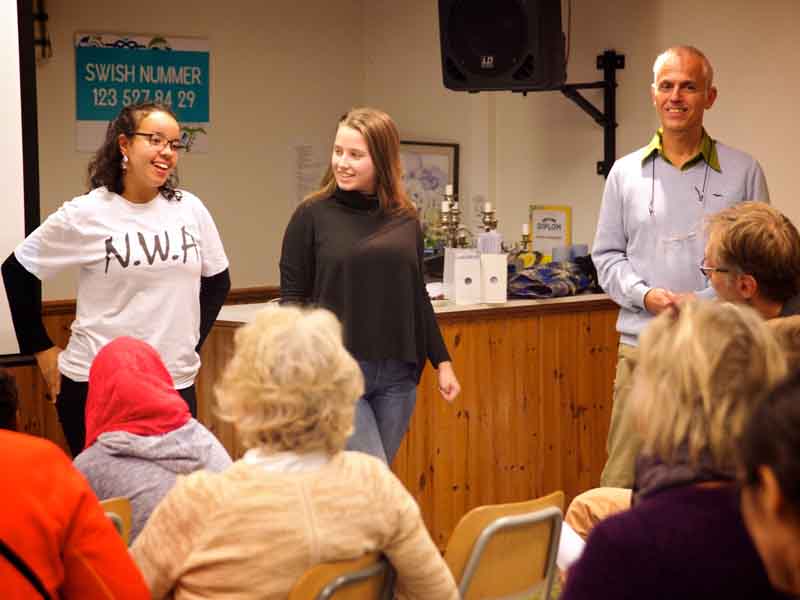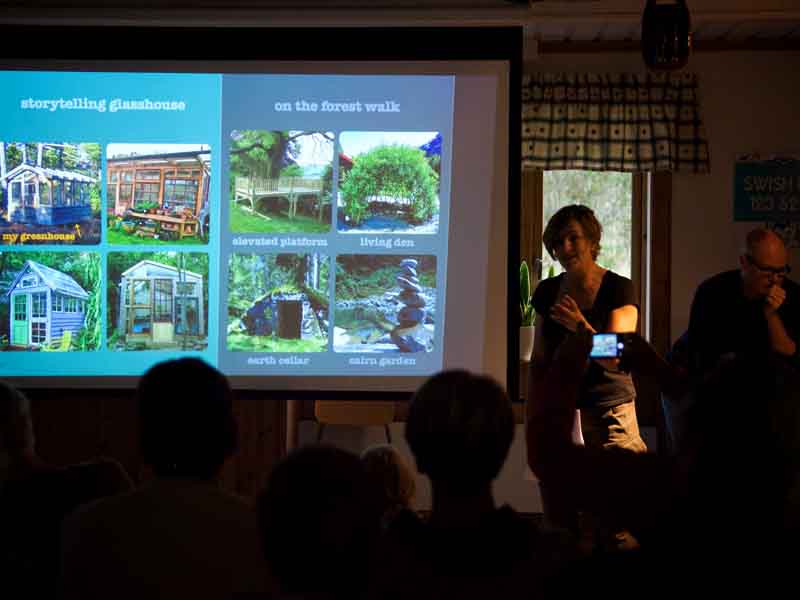 Elin and Rania made a film when they joined a study tour to Kenya. The film share their deep concern for children in Dandora and how much fun they had together! The film got a lot of applause! Working together with water in schools is getting more and more interest in Swedish schools. Peter Nolbrandt from Mark and Lasse Johansson from Varberg work together and shared their cooperation with facts and singing. We recalled last year GlobeDays when children from 25 nations came together from five continents to give ideas for the Children's Meeting Place at UN, Nairobi (Kenya). Four young girls are still engaged and said the meeting place at United Nations must have an Under World and an Above World. Kajsa has initiated a project called the 4 Elements of Water, Fire, Wind and Earth on Nämdö which was visualized by Clare Lindstrand living on the nearby island.  A Sami Legend of the Creation of Life was told by Harriet Nordlund who is the author and story teller. Support for Globetree programs come from Solidarity Days at schools and Lars Lagergren introduced Gift Vouchers.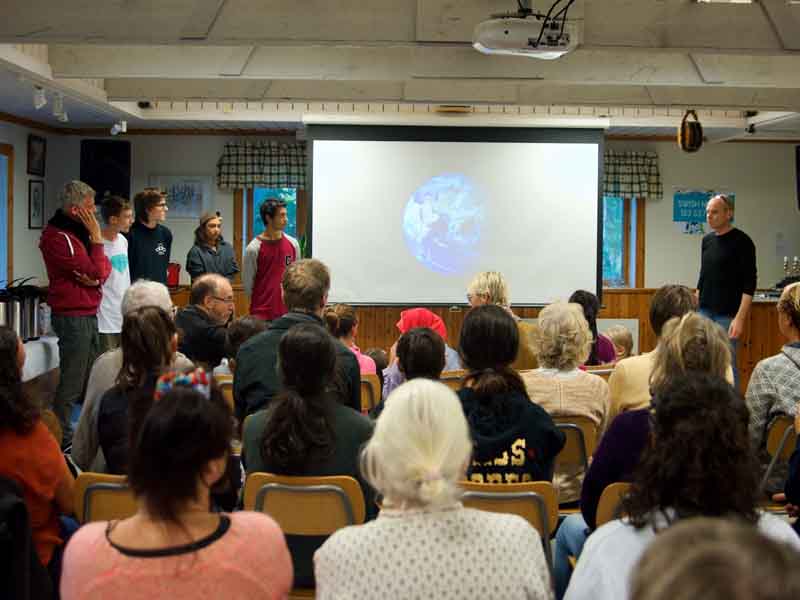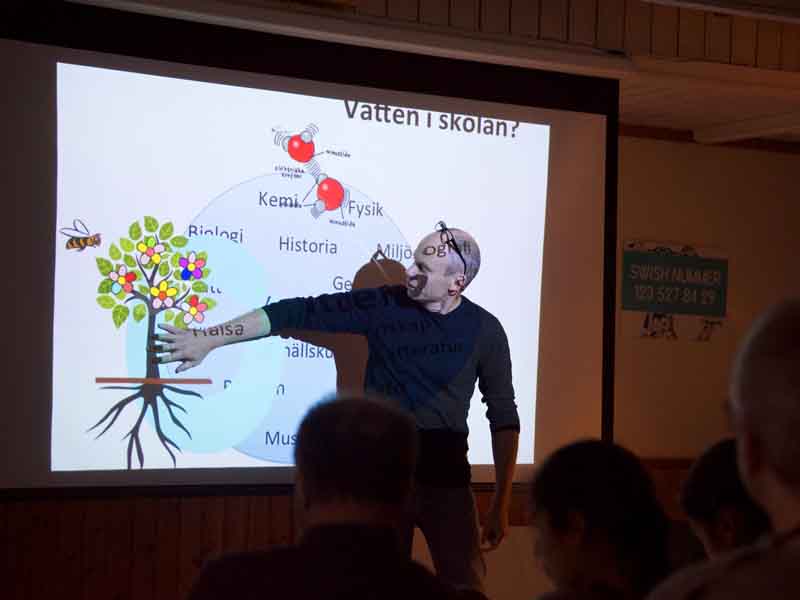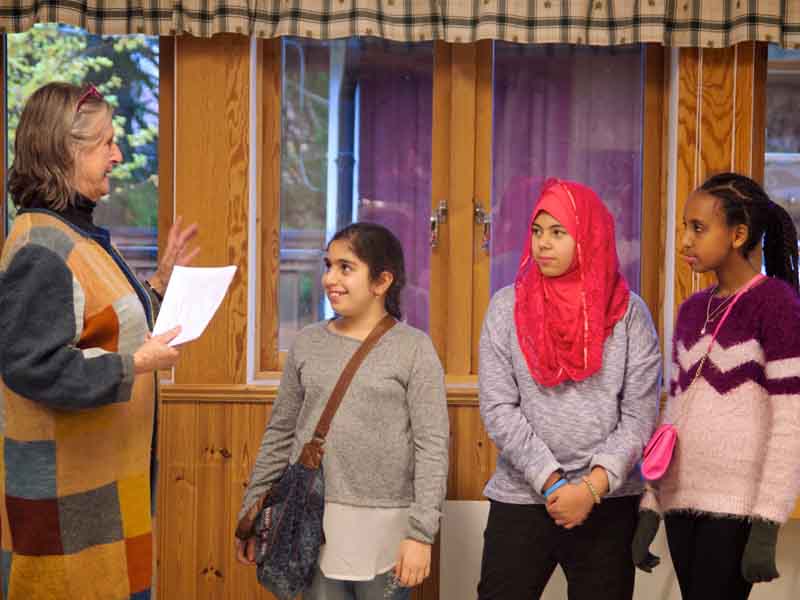 Next My Life tour to Sweden – in the fall 2017 and 2018
My Life and Child's Life is back on tour in Sweden in the fall 2017 and 2018
We plan for two more tours with the theatre performances My Life and Child's Life. Six new actors 11 to 18 years old will share their every day life in Dandora next to one of the biggest dump sites in Africa. If you happen to be in Sweden in this period – make sure you see the performaces!
They are really longed for – Fracis and Chris from Kenya!
The muscians  Francis Demesi and Chris Omondi from Dandora in Kenya came back to Kvickentorpsskolan and Hasthagsskolan in Stockholm end of August. They were really longed for! Their music program and workshops engage everyone in the schools – pupils and staff!
The program for the next study tour to Kenya 2017
Now it's ready! The program for the next Study  Travel is set for 12 – 22 January 2017. If you wish to join – contact Peroy Kirchner; peroy@globetree.org Cell: +46 708 160987
Invitation and program will be translated into English!
The first day we organise a party for children living in the slum and in the streets – we all get together for the preparations. Children and youth from Dandora who have been on tour in Sweden with the performances My Life and Child's Life will be your guides showing their every day lives next to one of the biggest dump sites of Africa. Mtoto wa Dandora (Children of Dandora) is an NGO which has just recently been founded by young people in Dandora. The organisation supports vulnerable children and offer them lessons in drama. You will also meet children in schools and sit together with children at Children's Meeting Place at United Nations in Nairobi.  If you wish to join a safari to Maasai Mara we will help you with the booking.

Gift Vouchers
We can offer Gift Vouchers for 100 SEK, 200 SEK and 500 SEK. They are nice presents for birthdays, Christmas or in memory of friends who passed away – instead of flowers. The income of the Gift Vouchers support children in Dandora and other places in Kenya to go to school. All income from the Gift Vouchers go 100% to the children. We wish to thank our friend Lars Lagerholm who has organised for the Gift Vouchers and Infoservice in Kalmar – the company printing the cards for free.
We had a great time in Kenya January 2016
Visit to UN

Christmas party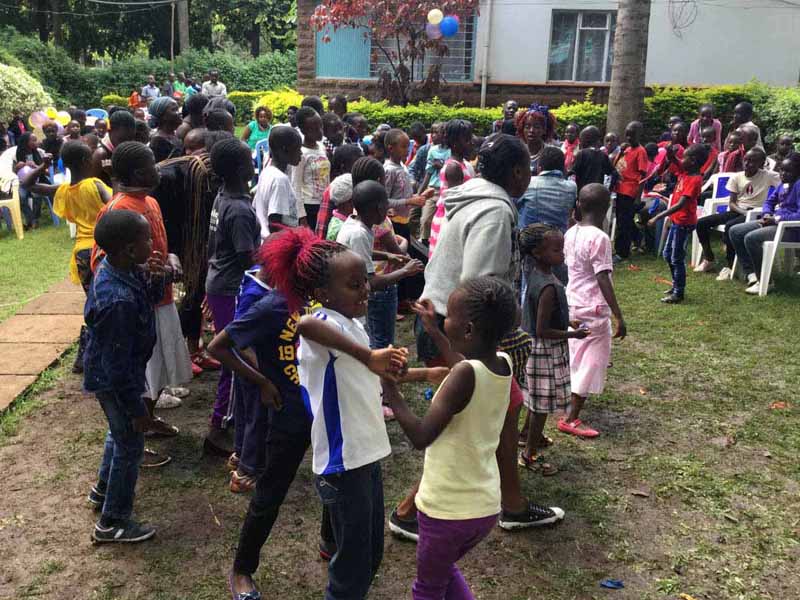 Visiting a school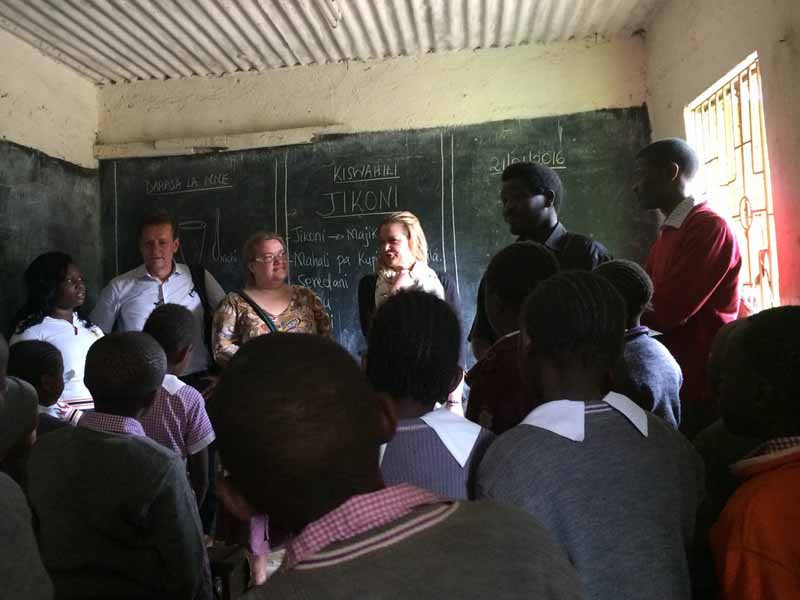 Dandora music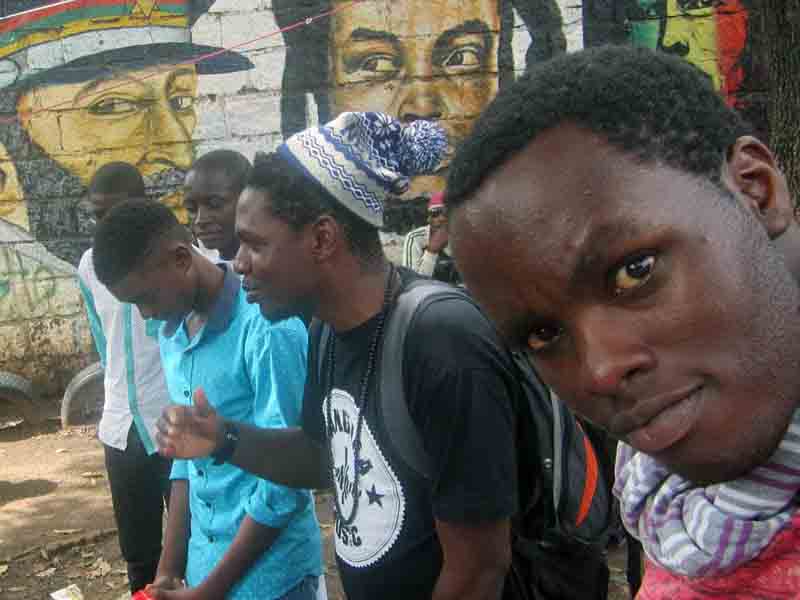 Childrens Climate Conference in Södertälje
November 2015
Children's Climate Conference (CCC2015) was organized by Telge Energi in Södertälje just south of Stockholm. Globetree was asked to help by inviting children from 25 countries representing all continents, be advisors to the planning team, assist with workshops and lead the seminar for the adult leaders of the children. We accepted the mission. The climate is the greatest challenge facing the world. Everyone need to support – to do what we can! The children were invited as Official country delegates to the City Hall of Södertälje, where they talked about climate change that they already can observer where they live.
The thoughts, concerns, visions and proposals for the future that the CCC2015 agreed upon became a message to the big UN Climate conference in Paris COP21. The communiqué was: ""Act like a kid".
A message from Kenya
Globeday at Stockholm City Hall
November 2015
Preparations
The theme for this year's Globe Days: How to make the Children's Meeting Place at the UN in Nairobi more visible, accessible, sustainable, fun and exciting!
The GlobeDays became a fantastic creative workshop where 130 children and adults from 26 countries – from all continents! – met with students and teachers from six City districts of Stockholm. All came with ideas and worked on models to make the Children's Meeting Place Children's Meeting Place at the United Nations in Nairobi more visible, accessible, fun and exciting.
Adults – the leaders and teachers – participated in an Open Café. The theme: How can we adults give support to the children's ideas – from ideas to action!
Our Uniting Water Ceremony
All adults – Guests of Honor, lecturers, teachers, chaperons and volunteers were deeply moved when the children united their water and soil in Our Uniting Water and Soil Ceremony at the City Hall. The children brought a bowl of water and a handful of soil from a place they care for at home. One by one the children came up to the Crystal Bowl and shared their concern for their water and soil.
The children read their Water and Soil Declaration and handed over united water and soil to the Guests of Honor. The sound of a seashell led the way to the Children's Meeting Place, the old oak tree at the Courtyard. The Guests of Honor moved around the tree and gave the united water and soil to the roots of the oak tree.