In September the president of Globetree was invited to be key note speaker at the opening ceremony of Wot Batu, a massive outdoor installation of megalithic stone structures and huge totemic columns. Wot Batu is created by the renowned Indonesian artist, Selesar Sunaryo. The Indonesian Minister of Education and Culture, Mr. Anies Baswedan officially opened Wot Batu. This unique area gives a perspective and a reminder of a pre-societal world, a time when humans lived as one with the natural world. The stones, gathered mostly from Java but also other parts of the world, gives a deep reaffirmation of human unity.
Neil Clifford, a Canadian sculptor, joined the travel to Indonesia. Globetree met with Neil 25 years ago and introduced him to Balinese artists where he learnt the skill of art carving. Neil Clifford is today one of Canada's finest wildlife and animal sculpture.
Puppet school in Jelekong
West Java, Indonesia
The idea to create a Wayang Golek School in Jelekong, West Java was initiated on the Indonesian journey 2014. The traditional puppet playing of Wayang Golek (Javanese wooden puppets) now lies in the hands of a few gifted dalangs (puppet players). The puppeteer, Iden Sunarya, son of the late wayang golek master Abah Sunarya, has twice been on tour in Sweden with wayang golek performances. Iden and his daughter Tuti were invited to join the travel to Bona Village, Bali, to meet I Made Sidia, the son of the Balinese master dalang, dancer, mask carver, I Made Sija.
In the 90's Globetree supported I Made Sidia to realize his dream of a culture centre. With financial support from the Sida (Swedish International Development Authority) I Made Sidia got started. Today I Made Sidia is the leader of a unique and vibrant Balinese Culture Centre, Sangar Paripurna, where more than 200 children come every day to learn Balinese dance, gamelan music and Wayang Kulit puppetry. I Made Sidia is today a famous artist and teaches all over the world. Iden and I Made Sidia discussed ideas and technical solutions for the Wayang Golek School of Jelekong from early morning till late at night.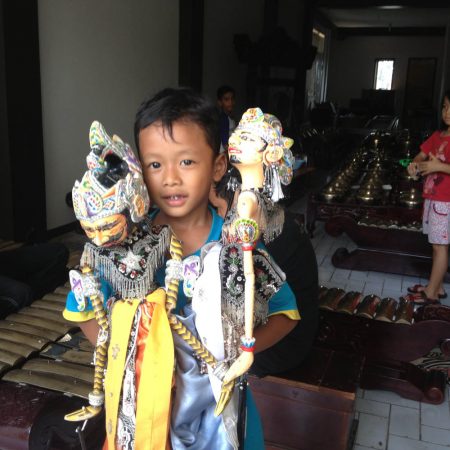 Inlägget finns också på:
Swedish