Study tour to Kenya 2015
Christmas party in Nairobi for poor children living in the slums

---

We invited 270 children - 350 came!
The Christmas Party is growing and growing...


The year began with what has now become a tradition – The St. Knut's Day (Tjugondag Knut) in Nairobi. 270 orphans and poor children from Dandora and areas around Nairobi were invited – 350 came! In Sweden Tjugondag Knut celebrates the end of Christmas and the Christmas Tree is thrown out with happiness and fun. It's a tradition to have the party at YMCA. The staff is part of the preparation and work hard to give the children a wonderful day. The children long for this day all year and bring friends. The number of children increase every year!
The party is the start of the yearly study-tour. Elementary school teachers from Farsta joined this year and brought hundreds of presents to the party collected by pupils at the two schools – Hästhagsskolan and Kvickenstorpsskolan.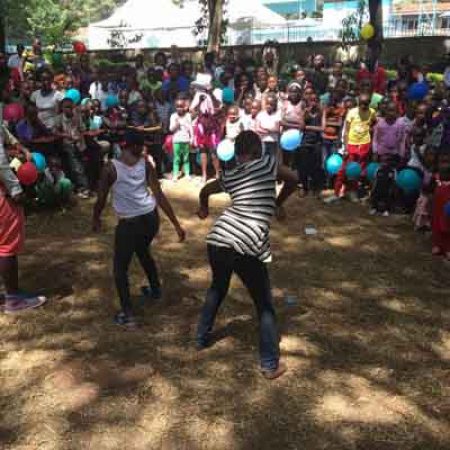 Teachers from Kvickenstorpsskolan and Hästhagsskolan, in the Stockholm city district Farsta, participated in this year's Study-tour together with students from high schools and the Children's Ombudsman in Strängnäs municipality and members of the Globetree. The first day all are engaged to prepare and support the Christmas party for 350 children from Dandora and Nairobi area.
Dandora is in focus for the study tour which is a huge settlement next to a dump site – which is said to be the largest in the whole of Africa. Visits were made to Rosebella School and St. Anne Rehabilitation Center for orphans and poor children. This year St Anne got a new roof. Children and staff thank all in Sweden who helped raise money.
The study-tour included a creative and inspiring workshop at the Children's Meeting Place (CMP) at the United Nations with the theme: – How can the Children's Meeting Place – The Mother Tree – at the UN in Nairobi be more accessible, visible, fun and exciting to visit?
Children and adults from Uganda and Tanzania joined the workshop and many ideas were presented to staff of UNEP, UN Habitat, UNICEF and UNON and received positive response.
Inlägget finns också på:
Swedish