Come with a suggestion! says UNEP Exec. Dir. President Moi invites the 300 children for lunch as a gratitude for a deeply moving program at UN.
Globetree is responsible for the Opening Ceremony and has worked together with 300 children from 10 schools and centres in slum areas in Nairobi perform with songs, dances, poetry, rap, acrobatic and drama the struggle and problems they face in their everyday life. The audience is in tears. President Daniel arap Moi invites all children for lunch to express his appreciation.
Kajsa Dahlström, president of Globetree sits next to Dr. Klaus Toepfer, Director of UN, Nairobi. Kajsa whisper to Dr. Toepfer: – It's these tears that change the world, not your papers. Please take care of this moment when leaders of the world are touched by the children's messages. Dr Toepfer whispers back: – Come with a suggestion!
Before the Opening program Peroy Kirchner and Kajsa asked children what they want to tell leaders of the world. Then it was discussed how the messages shall be performed and finally the rehearsals to make it all work on stage. Kajsa says to the children before they go on stage: – This is your chance. You will not get this chance again. It's now you can reach leaders of the world. Kajsa sits at the place of honor and suddenly feel tears running down her face. She looks around. Everyone in the audience is in tears. The children have reached world leaders with their messages!
The children also create a Future Vessel at the main entrance of the United Nations.
For Globetree it's a true honor to work with children who have so many different life experiences. They live and work in the streets, in slum areas, in children's homes and institutions and attend private and government schools. An IT-team makes a web site and organize for a three part video conference between Kenya, South Arica and Sweden.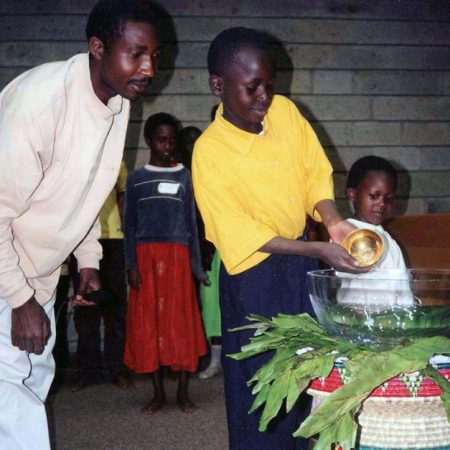 Inlägget finns också på:
Swedish