Globetree hosted and joined the Study Travel to Sweden for H.W. Mayor of Mukono Mr. Johnson Muyanja Senyonga and H.W. Mayor of Busia Mr. Michael Mugeni (Uganda) who travelled together with two teachers and a pupil. The aim of the travel was to exchange ideas with Swedish municipalities to implement the UN Convention of the Rights of the Child and the Agenda 21 and inspire Swedish municipalities to start partnership program with cities in the Lake Victoria Region.
Globetree hosted the two weeks program 25 April to 8 May which covered eight cities/municipalities in Sweden. The Lord Mayor of Stockholm, Mr. Barry Andersson, welcomed Mayor Johnson and Mayor of Mugeni to his office at Stockholm City Hall and discussed the World Championship in Cooperation – the upcoming Globetree Event to take place in Stockholm 2006.
The implementation of the UN Convention of Rights of the Child was discussed with Eva Björn-Norén at Swedish Children's Ombudsman. The Agenda 21 – implementation of sustainable development was discussed with Mr. Peter Wenster, Head of Agenda 21-office of the Swedish Local Authorities Association.
A unique water cleaning system was presented by Prof. Gunnel Dahlhammar at the Royal Institute of Technology. At Sida (Swedish International Development Cooperation Agency) programs in the Lake Victoria Region was presented and discussed.
The Mayor of Kalmar hosted a meeting at Kalmar City Hall and continuing cooperation between Lake Victoria Region and Baltic Sea Region. At the University of Kalmar the delegation was invited to a seminar on the Rights of the Child.
In Robertsfors, in the north of Sweden Mayor of Busia met with the Mayor and discussed the partnership program that has started together with Project Leader Tori Carlsson who also presented The International Youth Forum in Robertsfors.
The Mayor of Värmdö municipality presented the Children's Meeting Place and the place where children put letters and drawings with questions and suggestions to the municipal leaders.
Last part of the tour was in the city of Strängnäs and the inauguration of the Children's Meeting Place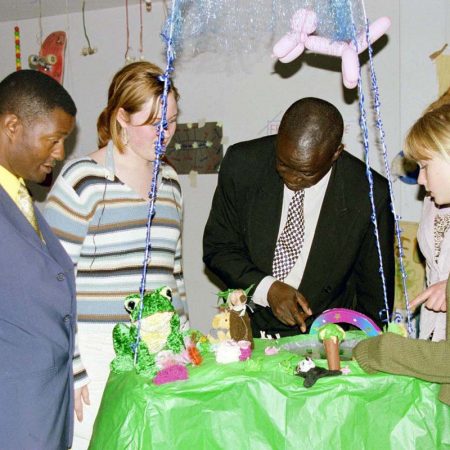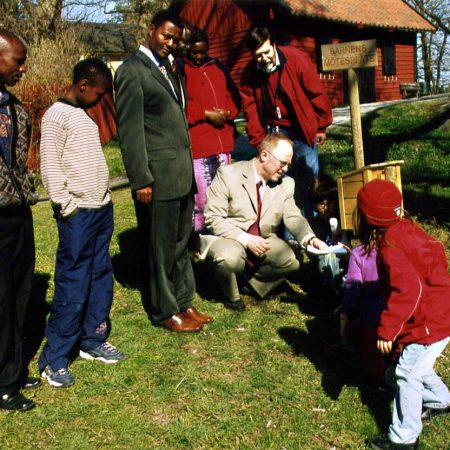 Inlägget finns också på:
Swedish