The Future Vessel gets a central place at the Ministerial Conference at the 2nd World Water Forum in the Haag, The Netherlands. Indigenous people of 4 continents together with an astronaut and a cosmonaut set the stage for the Opening ceremony with Our Unting Water. HRH The Prince of Orange is the children's special guest of Honour. The Future Vessel is created in the middle of the Ministerial Conference. 250 young participants from 17 Water Regions in the world create their Water souls visualizing the special water situation for the region. Each participant also brings something personal that is important for
the future. Participating countries: Austria, Canada, China, Finland, Indonesia, Italy, Japan, Kazakhstan,
Kyrgyzstan, Lithuania, Mexico, Mozambique, Morocco, The Netherlands, Rumania, Russia, Slovenia, South Africa, Sri Lanka, Sweden, Tajikistan, Tanzania, Turkmenistan, UAE, Ukraine, Uzbekistan and Yemen.
A Video link between the Future Vessel and two cities of Japan
A direct video link between the Future Vessel and two cities in Japan – Yokohama and Fukushima – is
established. The Opening performance is broadcasted live , followed by a dialogue between the children and the Mayor's of the two cities.
The Virtual Future Vessel of the 2nd WWF
The Virtual Future Vessel exhibition is built as part of the adjoining Fair. On Globetree homepage a special program – The Rainbow Island – is produced by students of the media line at MKFC (Mångkulturellt Folkbildningscentrum, Spånga).
Seminars
Parallel to building the Future Vessel, seminars are held 14 Perspectives of the Future Vessel. The
subjects are: Space, Water, Indigenous People, Art, Youth, Education, Science, Gender, NGO, IT, Politics, Business, Media, CREA21 (Creative fusion of the two UN-Documents The Rights of the Child and Agenda 21).
Dialogue children – decision makers
In a dialogue between children and decision makers
Minister for the Environment Kjell Larsson, Lord Mayor of Stockholm, Axel Wennerholm and ED
Sven-Erik Skogsfors, SIWI (Stockholm International Water Institute) participate.
The Future Vessel was built on the stage in the center of the Ministerial conference at the Second World Water Forum in
Haag, The Netherlands.
This is the Future Vessel!
The closing performance – This is the Future Vessel! – is presented from ideas that evoked during the 36
hours of building. The 14 Perspectives of the Future Vessel finds its interpretation on the stage. HRH Prince of Orange request all the members of the 2nd WWF-commission to join the Closing performance and in his speech for the Ministerial Conference HRH Prince of Orange refer to the children's participation:
"The children – the generation whose
future hangs in the balance – sang to us:
Let us be part of the work!
Let us join! You can count on us!
They remind us that sustainable water management requires solutions with time horizons well beyond what we are used to in government plans."
HRH Prince of Orange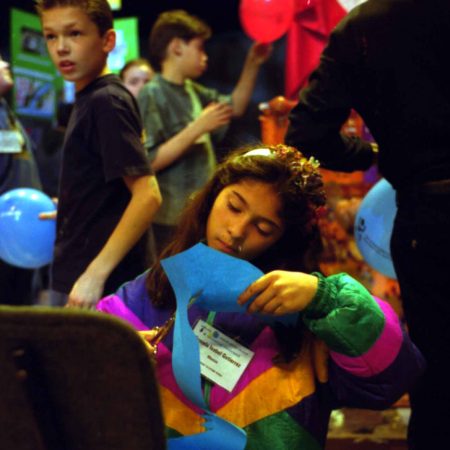 Inlägget finns också på:
Swedish