Children's Meeting Place
November 2021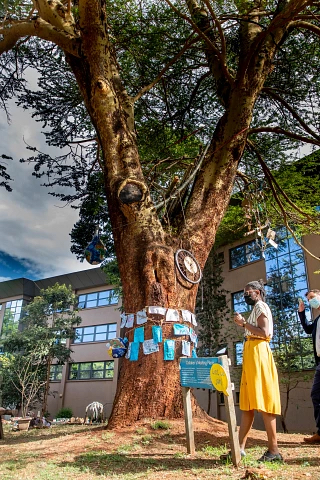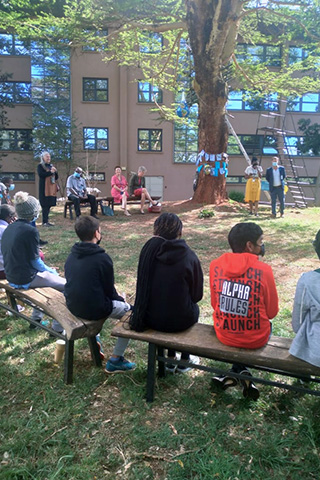 In November 12 schools and children's groups of Sweden, Kenya and Uganda celebrated the 20 Years of the Children's Meeting Place with artful messages from their own local Children's Meeting Places. The art was exhibit in the branches, around the trunk and on the roots of the Mother Tree. The UN Security made and exception allowing 10 PCR tested children to enter. The children had prepared poems, dances and questions to the invited Guests of Honor; Ambassador of Sweden and Ambassador of France to Kenya, The Man of Trees of National Museums of Kenya and Youth representative of UNEP.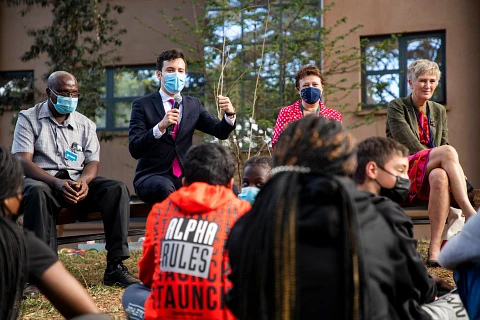 What is most important in life? Juan Pablo Celis Garcia from UNEP answered by dancing message.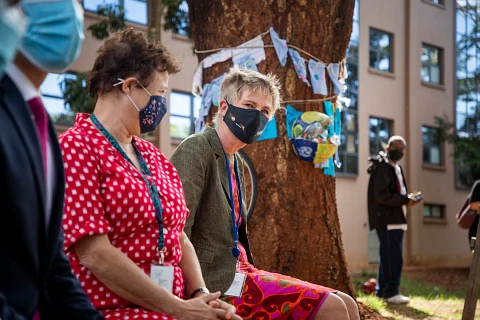 The Swedish Ambassador Ms. Caroline Vicini and the French Ambassador Ms. Aline Kuster-Menager.
CNN took contact with Globetree asking if Globetree will celebrate Earth Day the 10th of November. Thanks to CNN hundreds of children took action in Sweden, Kenya and Uganda making visual art with their messages and promises to the future. All art were packed in big bags and travelled with Mama Kajsa to Nairobi. Airport staff at Arlanda and Nairobi Airport supported "the travelling art bags". At the end of the day CNN pointed out the children's Art Presentations from their own local tree to the Mother Tree as the highlight of the Earth Day. All in Globetree were happy: The 20 Years of Children's Meeting Place was celebrated together with hundreds of children and with 10 PCR tested children from Dandora and Aga Khan International School – who were allowed to enter the United Nations.
Inlägget finns också på:

Engelska